Open Box (Blemished)
Ibanez Talman TCM50 Cutaway Acoustic-Electric Guitar Vintage Brown Sunburst 888365795409
(Vintage Brown Sunburst888365795409) Sku #519726005332043
Ibanez
519726
ABA
6 String Acoustic Guitars
https://www.esnapw.com/rses/ESnapServlet?MerchantNumberSent=63655
FREE SHIPPING on Almost Everything
MMGS7/519726000332000_MEDIA_SET
true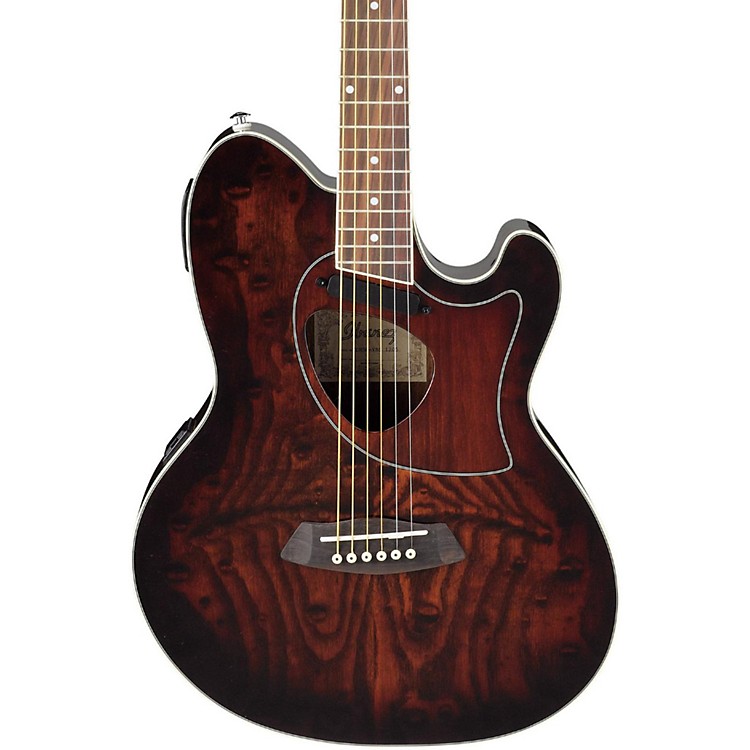 The electric guitarist's acoustic.
Talmans are for the electric guitarist who likes being on stage with an instrument that has the bright resonance of an acoustic and the streamlined look and feel of an electric.
FEATURES
Figured ash top
Mahogany neck, back, and sides
AP2 magnetic soundhole pickup
Chrome hardware
Die-cast tuners
Case sold separately
Mic it for pure acoustic tone, or get some real electric bite when you plug in. Make it yours today!
Talman TCM50 Cutaway Acoustic-Electric Guitar Specifications:
Back and Sides: Mahogany
Case Included: No
Controls: AEQ200M Magnetic Pickup w/2-Band EQ
Finish: Gloass Vintage Brown Sunburst
Inlays: Pearl Dot
Machine Heads: Die-Cast(CH)
Top Wood: Figured Ash
review resources
/productDetail/reviews/productReviews.jsp
1
Loading....
Write a Review
IbanezTalman TCM50 Cutaway Acoustic-Electric Guitar
Comments about Ibanez Talman TCM50 Cutaway Acoustic-Electric Guitar:
Hello All... I wrote a review back in 2004 telling you how much i liked this guitar. It's been five years now and this is still my number one. I did finally sand down the bridge and nut pieces and the action is amazing now! I'm sitting here at a loss for words to explain how great of an investment this has been for me. I have played many live shows and I love to jam acoustically as well. Yes, the small body makes for a lot smaller sound but its still loud enough to be heard around the campfire. The magnetic pickup blows away any piezoelectric. Period. Almost NO FEEDBACK! I haven't had any problems with warping - I live out here in the desert where the temperature difference can fluctuate quite dramatically. Long story short, a great axe for a great price! Rock On...
Comments about Ibanez Talman TCM50 Cutaway Acoustic-Electric Guitar:
This is not really a review of the guitar. I am interested in buying this guitar but I'm having trouble finding out if it is the actual talman pictured or the one pictured on ibanez's website. They are quite a bit different and have a different headstock. Music123 has not been helpful at all in finding this out. Could someone tell me weather the guitar they recieved is the one pictured?
Comments about Ibanez Talman TCM50 Cutaway Acoustic-Electric Guitar:
I can chord easily outdoes Fender I got for easy of finger.. maybe the scale fit my hands. My action is low.. i will actually raise it..few mm's . This suits my vocal style... I'll improve with this instrument. Geez just buy it!
Comments about Ibanez Talman TCM50 Cutaway Acoustic-Electric Guitar:
After playing straight electric guitar for years, and only having acoustic experience on dreadnaught body Sigma Classic and Entry-level Epiphone guitars, this was my first purchase of what I considered a "step higher." I wavered back and forth between the TCM and the TCY10. What finally sold me on the TCM was the magnetic pickup. Playing it at a music store, I was at first impressed by the sound the TCM made unplugged- for such a narrow body, it sure did produce a rich sound (perhaps a little quiet for my liking, but as I said, I've played electric for ten years). But when I plugged it in, I was just blown away! Amped, it made such a beautiful, full sound. It also responded very well to amp effects (try it with medium chorus and light reverb through a VOX Valvetronix). The action, while not exactly that of my Ibanez RG 170 electric, is an easy transition for the seasoned electric guitarist who wants to add some acoustic to his (her) repertoire.Cosmetically, this is a beautiful instrument. Photographs don't do it justice. It's not quite brown- it's more of a cherry-stain color, with deep red overtones. Polished up, it's nothing short of stunning.My only gripe with this guitar (and it's almost not worth mentioning) is the fretboard. If you like bends, be prepared for a little bit of scrape. Nothing noticeable to a listener, but the player will feel it.Overall, this guitar is unbeatable for the price. If you're debating a purchase, find somewhere to play one. I'm sure you'll make your decision on the spot.
Comments about Ibanez Talman TCM50 Cutaway Acoustic-Electric Guitar:
I've had my Talman for a few months. The smaller body does make for a treble sound when played without an amp, but this is why tone controls were invented. Amp the unit up and it takes on a life of its own! The sound projects really well and has the ability to cut through other instruments on stage. (Sort of like an Ovation) The action is low - just as I like it. It is the perfect acoustic for an electric player, which is why I bought it. When I was shopping for the guitar, I compared it to the Fender Straitjackets and the Telacoustic, but the Ibanez came out streets ahead.The body shape can be a bit confronting, but I already own a Talman electric, so I really like the shape. The quality of the finish is everything I have come to expect from Ibanez - excellent. If only some of the 'established' manufacturers would put in the same effort.
Comments about Ibanez Talman TCM50 Cutaway Acoustic-Electric Guitar:
If a guitar that plays like an electric but sounds acoustic is what your looking for, then this is definitely one you should consider. The thing that looks like a pick guard is not a pick guard but rather a darker shaded pattern. It's not solid brown. It's actually a very pretty coloring. I like it. The pros, are that it sounds better then any other guitar that size unplugged. Better then Fender's equivalent with plastic back and better then some of the Ovations. It's very beautiful and sounds good unplugged but not great. Cons, the tone is obviously not as deep as a regular guitar and has a slight "balsawoodish" sound unplugged. Plugged in, it sounds good, but not great. Max volume is not bad and only 2 EQ. Could be a little more powerful. Could use a pick guard. Made in China and the quality is avg to above average and not as good as Korean made. I got a blemished so I paid far less then selling price but worth it. For the selling price, it's still a decent deal.
Comments about Ibanez Talman TCM50 Cutaway Acoustic-Electric Guitar:
I started looking for an acoustic-electric with a cut-away and ran into this baby. It jumped off the screen and screamed my name. Well, I bought it. When it arrived, I took it out of the box just to find out I had to send it back! The headstock was broken completely off the neck. Music123.com was very cool about it and shipped me another one right away. The second one came and it was almost perfect... the reason I say that is that the action was way too high. I live in the middle of nowhere, NM so I haven't taken it in to get it fixed, but it still plays like a dream. Unplugged, it sounds a little small - but when you plug it in...whoa! I'll never buy another piezo again! The only other thing I was disappointed about was that thing that looks like a pick-guard...isn't. Other than that I love my new axe. I would highly recommend it to anyone looking for a high performance acoustic-electric!
Comments about Ibanez Talman TCM50 Cutaway Acoustic-Electric Guitar:
This TCM 50 is a cosmetically beautiful, plywood/veneer top and sides, Chinese made guitar. I've owned three of these and had finish problems on the first two. Watch out if you're a perfectionist, about buying a Chinese guitar, they're still learning. All in all, though, the guitar sounds excellent plugged in and the AP2 magnetic pickup is great for live shows. Unplugged around the campfire, it's going weaker, thinner and more dead than a big dreadnought but you can hear it. Also, it doesn't resonate like a nice solid top, etc., so don't buy it, expecting that it will do great both plugged or unplugged. It seems to be reaching for electric land, for live shows, because it can get much louder without feedback than a piezo equipped acoustic electric. I also had some significant neck/action settling on the final one, probably for three reasons: 1) the wood chosen for the neck is probably not super selectively grown, dried and strategically chosen, like on a fine, $5,000 hand made guitar, 2) most guitars that come to Texas are initially shocked by humidity/temperature extremes, and do move a bit 3) a plywood top is going to pull up a bit more than a solid top. If you don't have much money and need an acoustic sound in a live show setting, this is a fine choice because the preamp is good and the amplified sound is excellent. If you want a life-time-friend guitar with a neck/top that will outlive you, save up another $2000 or so. Also, for unplugged work, plan on having a big bodied second acoustic besides this one, if you need big sound where amplifiers are outlawed. It's beautiful to look at, but probably won't last but five or 10 years without major neck/top/bridge/saddle work, but for a quick guitar for a poor guy in a gigging band, it's a great cheap guitar that you can play for a few years. And who knows, you may get fortunate and it'll settle in right and last hundreds of years. I'd doubt it seriously, but it could happen. In total quality, it's not a superior instrument for a concert guitarist, maybe a three out of 10 in terms of being built to last, but to get a job done, it'll play some gigs and pay for itself in a few nights work, and the electric sound is excellent.
Comments about Ibanez Talman TCM50 Cutaway Acoustic-Electric Guitar:
I chose to purchase the Ibanez TCM 50 acoustic guitar over installing electronics in an existing acoustic as the electronics alone cost more than the Ibanez. The Ibanez is constructed of fine woods and the looks and craftsmanship exceed much pricier name brands. The binding work alone is a costly extra on many instruments and they bind the back of the body as well as the front and the neck. I like the sound hole pickup in this particular model as I've never been a big fan of the piezo. I can crank this baby all I want in a live situation without feedback! And I can actually get a big box electric tone out of it when I want to. I own some pricey guitars, one of which is a Gibson ES 175. The 175 came through with a very ruff fretboard and the frets were horrible. They were ground ruff through a leveling procedure and left that way. They were never dressed and polished. I had to take it out of the box and work on it. The Ibanez came out of the box and taken to a gig and it plays wonderfully. I checked the action and the neck relief and everything is right where it should be. Smooth fingerboard and a proper fret job. Compare those prices again before you spend too much on a name! I plan to purchase an Ibanez electric as well and I've been playing on Fenders and Gibsons for years. Don't be afraid of change, there's a whole new work ethic happening in the guitar industry!
Comments about Ibanez Talman TCM50 Cutaway Acoustic-Electric Guitar:
This is an update to an earlier review and it gives high compliment to the single coil AP2 mag pickup included in some of the Ibanez Talman and Masa Series acoustic electrics. In a test, I wanted to see how well the AP2 pickup did against a piezo in the same guitar. The results. The crippling effect of a piezo pickup was revealed. My test guitar was Ibanez' CS 72 acoustic electric Masa Series, that has the same AP2 magnetic pickup as the TCM 50, and a Fishman piezo under the bridge, too, and can play either or both at once. Even though it's a very reputable Fishman AEQ3MX, pickup/preamp blender system, the piezo lacked volume and bass, even when cranked significantly, yet still added some nice versatility and textures to the CS 72. Definitely nicer having both on board than having either. But the AP2 blew it away. The onboard Fishman preamp of the CS 72 also has more features than the stock Ibanez TCM50 preamp, but a good quality amp/acoustic preamp can draw excellent sound from the stock TCM. The magnetic pickup gave superior clarity and volume over a boutique piezo at virtually all frequencies, because of natural physics. The magnet size and windings on a single coil pickup have advantages in size and soundwave transference, so it seems, over the piezos, which are pressure activated, etc. The TCM 50 is a little dead unplugged when compared to a big dreadnought, etc., but, it's a very good live show guitar that still resonates better unplugged than many thin line or chambered acoustic electrics. And its feedback is far less at rock volumes than a regular acoustic with a piezo added on. I disagree with the reviewer who said this sounds inferior to a full size acoustic plugged in. It seems to me that it doesn't make much sense to amplify a boutique acoustic sound with the wimpy signal of a piezo, at least, if you play in a loud band, although I do like the blended approach on the CS 72 and other guitars adding condenser mics, etc. to piezos. I like this mag setup best of all setups that I've seen for a simple, inexpensive, strong solution to amplifying acoustics with less feedback problems.
{ "pageType" : "item_page", "placements" : "1", "placementNames" : "rr1" }