Restock
Line 6 ToneCore Echo Park Delay Guitar Effects Pedal
Sku #150388002000000
Line 6
150388
HBAB
Delay & Reverb Effects Pedals
https://www.esnapw.com/rses/ESnapServlet?MerchantNumberSent=63655
45 day price guarantee, 45 day return policy, 100% secure shopping
MMGS7/150388000000000_MEDIA_SET
true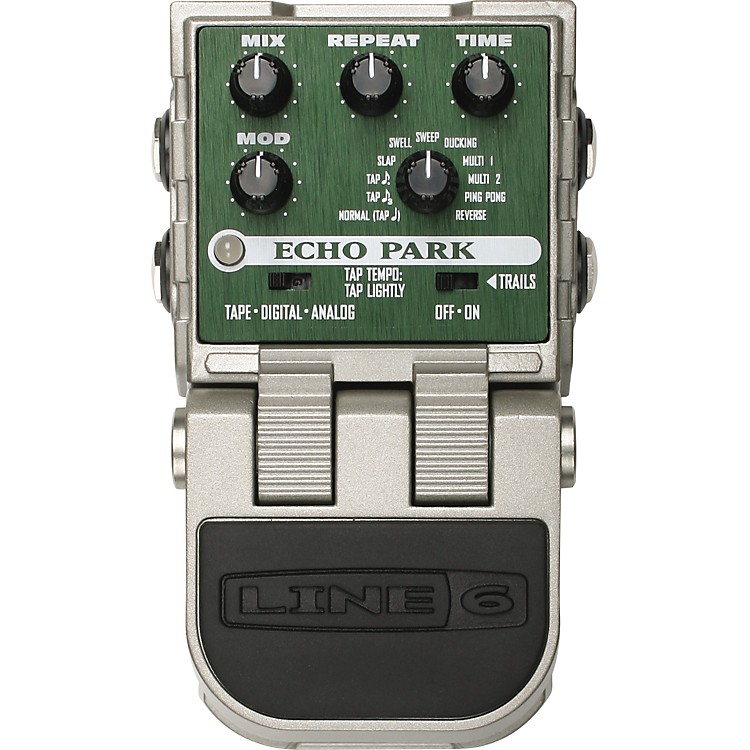 Line 6
Delicious delays with infinite control!
Based on Line 6's award-winning DL4 Delay Modeler. Echo Park is loaded with unbelievable sounding models including analog, tape, and digital delay, all easily adjusted with the Tap Tempo feature. Delay patterns like slap, ping pong, swell, and sweep can be adjusted with the twist of a knob and the Mod dial can be tweaked for even more variations. Echo Park features stereo ins and outs.

ToneCore pedals consist of a ToneDock base--in stereo or mono--and interchangeable effects modules that snap in and out, allowing you to change effects without rearranging your pedalboard. The ToneDock is powered by a 9V battery or optional DC-1 adapter.
ToneCore Echo Park Delay Guitar Effects Pedal Specifications:
Analog: Designed to give you a vintage analog "bucket brigade" delay sound, with its classic warmth and warble.
Depth: 5.625"
Digital: This gives you straight up echoes, with crystal clear digital fidelity.
Ducking: The volume of your echoes is "ducked" (reduced) while you're playing, and increases when you stop. This is handy to avoid mud-tone.
Height: 2.875"
Mix: Turn the knob up (clockwise) for louder echoes, or down for quieter ones.
Mod: Turn this knob up to get some delicious stereo modulation on your echoes. Each model has its own type of stereo modulation
Model Switch: Switching this reconfigures the virtual circuitry inside Echo Park. You get three of the most desired delay sounds on the planet.
Multi 1: Uses multiple delay "taps" to give you a rhythmic pattern of echoes.
Multi 2: Another multi-tap rhythmic variation.
Normal: your taps are treated as quarter notes, so you hear your echoes coming back at the same speed you tapped the footswitch.
Ping Pong: Alternating left and right taps
Repeat: You get 1 repeat at the minimum setting, and infinite repeats that swirl around when the knob is all the way up.
Reverse: Just like the backwards tape tricks on our favorite albums, this flips your input signal around and sends it back to you in reverse. Use it live, and folks are sure to be impressed.
Slap: This is the place for a speedy slap back echo. The Time knob's range is automagically changed to be 10 to 150 milliseconds. You can Tap Tempo quarter notes, and get 16th note echoes.
Sweep: Add this sweeping filter to the feedback loop of your echoes and you'll be glad you did!
Swell: This adds an auto volume swell along with your echoes. Dreamy.
Tap dotted eighth note: You tap quarter notes, your echoes come back as dotted 8th notes.
Tap eighth note triplet: This setting lets you tap quarter notes, while the echoes come back doing 8th note triplets. Sweet!
Tape: This gives you darker tone with each repeat just like a vintage tape-based echo. And you never have to change tapes!
Time: This knob gives you a range of spacings for your echoes from 53 milliseconds (close together) through 2.2 seconds (way far apart). You can use Tap Tempo to reach Echo Park's maximum time of 2.5 seconds.
Trails Switch: Set this on to keep Echo Park's processing engaged while in bypass, so your echoes smoothly trail away when you kick the effect off.
Weight: 2lbs 4oz
Width: 3.375"
review resources
/productDetail/reviews/productReviews.jsp
1
Loading....
Write a Review
Line 6ToneCore Echo Park Delay Guitar Effects Pedal
Comments about Line 6 ToneCore Echo Park Delay Guitar Effects Pedal:
Since i can not put 4.5 starts it is a 4. I don't give it 5 stars because of the insanely short battery life. I CAN NOT STRESS ENOUGH TO GET A POWER ADAPTER. When i say short battery life, i mean it. for the first month or so i had it i thought i had a defective one. I would put a fresh new 9volt in and it would be dead in less than 30 min. Just as an fyi, you don't need to get the line 6 power adapter. im using a basic, select a size and polarity one and had no problems with it and been using it daily for the past few years. My second biggest complaint is how hard it is to put a cable into the input jacks. For some reason it is just the input and not the output. I would recomend doing what I did and buy a small link cable and keep it plugged in to the input at all times. This will save you alot of headaches if you decide to take off. Besides from those 2 things this pedal is amazing. There is no limit except for your imagination on what you can do with it. It does take some getting used to as far as fine tuning and turning off the effects is concerened, that is if you are used to standard stomp boxes. This one you can fine tune the tempo/rate of delay by tapping your foot on it like a wah. As nice as this feature is, it also gets annoying at times when you are trying to turn off the effects and you don't stomp on the pedal hard enough. Overall this is the best, and most versital delay I have ever used.
Comments about Line 6 ToneCore Echo Park Delay Guitar Effects Pedal:
This is one very versatile delay pedal. The 3 modes are each unique and controllable. The delay sounds are excellent, the pedal is very quiet, and it appears to be constructed well. That said, the on/off operation of the pedal doesn't seem all that well designed. Makes sort of a "crunch" feel when turning on or off that I don't like. That and lack of any loop time, shiny green with white letters (hard to see) keeps me from going 5. But the delay sounds are really, really, good and that's what's most important. Stereo in and out is a big plus as well. It ears a solid 4.5 in my book. It's sitting next to my DD-6 on my board..
Comments about Line 6 ToneCore Echo Park Delay Guitar Effects Pedal:
I bought this pedal blindly from a a local music store. I brought it home and hooked it up and was somewhat impressed with its features and construction (just over two pounds of metal). However some things did disappoint me.The switching between Analog-Digital-Tape was alright, though no huge difference is there. The mod knob really just screws with your sound as it phases out...so I'm not huge on that. The mix and repeat knobs don't allow much control, and cancels before 9:00 or maxes after 3:00. When the mix is maxed, it also takes a whole tempo to hear the sound, so it can throw your timing off - as well as repeat, which will play over and over infinitely when maxed, so it will get noisy until you either lower the knob or turn it off without Trails.The Tempo, Tempo x2, and Tempo Triplet are always good options, but the ping pong feature blew me away. The way the echoes bounce between two amps (if you have two) is amazing, and the Multi 1 Multi 2 features also do this, but with shuffle echoes.I have heard you need to buy a special adaptor for this so no noise gets intense (due to the amount of power intake), so invest another $25, or just change 9Vs every 5 minutes! Overall the sound it reproduces is very nice, though control is a bit of an issue, You'll need to train with this pedal for a few days before unleashing what it has to offer.
Comments about Line 6 ToneCore Echo Park Delay Guitar Effects Pedal:
I got this delay pedal because I wanted a class delay with my distortion. I mainly play Van Halen and Joe Satriani n' stuff. You've got tape- digital and analogue delays! haven't even used all of the functions yet. Theres so much U can do with this. Great for hard rock and metal solos! ooozes with great sound!
Comments about Line 6 ToneCore Echo Park Delay Guitar Effects Pedal:
I have never been super into delay pedals, but after seeing all of the functions that this pedal was supposed to perform and listening to all of the sound demos online, I had to kill my curiosity and try it out. The first thing I was worried about was "Is this gonna kill my tone?" Fortunately, this pedal is pretty transparent; I didn't really notice any tone degradation, personally, although it does seem to brighten the sound a bit, which I kind of like. All of the delay settings work very nicely, with great precision and adjustability. There are so many ways to affect the sound, it takes a little while to find those settings to get where you want to go, but they are there. Keep turning those knobs! With a little knob fiddling, you can get that Edge/Joshua Tree kind of sound to a spacey dub/reggae echo to a nice setting for those airy, melodramatic metal leads you know you really love to play. The reverse setting is pretty cool, but the responsiveness is a bit slow for my taste, although I may not have found the right settings to get it the way I want it(keep turning those knobs!). The swell setting is great for creating a little ambience. Those dissonant jazz chords really get a new life in this setting, especially with the modulation knob turned up just a bit. Talk about spooky... Oh, and speaking of the modulation knob, you can get some really crazy sounds out of this little box(if you want) by tweaking that and messing with the other knobs(keep turning those knobs!). The only major drawback is that this sucker will eat a nine volt battery in no time. So, get an AC adaptor for it; it will save you a lot of hassle and money. All in all, a great single effects unit, in my opinion. If anyone is looking to buy a delay and doesn't want to spend an arm and a leg for a rack unit I definitely recommend taking a look at this pedal.
Comments about Line 6 ToneCore Echo Park Delay Guitar Effects Pedal:
I just got my pedal today at 2PM and I'm lovingit since 8PM right now...I love the sounds that this pedal creates. I hooked it up Marshall JCM2000 right behind the TS-9 and it sounds killer..My lead sound got much more smooth and dreamy..I needed a new delay pedal and I heard from pedal forum that Line6 just made a delay pedaland I decided to give it a try. I really wasn'texpecting anything because all the Line6 productsthat I've used were too digital for me. Butafter hearing its sound samples, I was surprised.No wonder why it was so hyped even before it cameout. However, myself-Jaden, doesn't believeanything until I get the stuff in my hands and see it and try for myself. Well, guess what...I've tried almost all delay pedals and racksout there but this one just blows everything outin sound quality at this price range. Heck, thisthing makes almost equal sound quality from those expensive effecting racks (G Force anyone?)that I heard. This thing has very similar features from DL4 which I really liked except it is smaller and a lot cheaper. I had a Vintage Tape Echo way back in the 80's and this one gives you good simulation of it.Also I really like digital and analog settingsthat it has and adding tap tempo feature does a superb job. It gives you good tonal choices thatyou can choose from and is VERY easy to tweak.I thought the pedal was going to be kind of light. In the pictures posted on the net,it looked like it was made out of plastic, but it'sactually pretty heavy and built like a tank. I recommend this pedal to all of ya'll and you won't regret. Give it a try.
{ "pageType" : "item_page", "placements" : "1", "placementNames" : "rr1" }