Line 6 M13 Stompbox Modeler Guitar Multi-Effects Pedal
Sku #482675000000000
Line 6
482675
HBCB
Floor Guitar Effects
https://www.esnapw.com/rses/ESnapServlet?MerchantNumberSent=63655
45 day price guarantee, 45 day return policy, 100% secure shopping
MMGS7/482675000000000_MEDIA_SET
true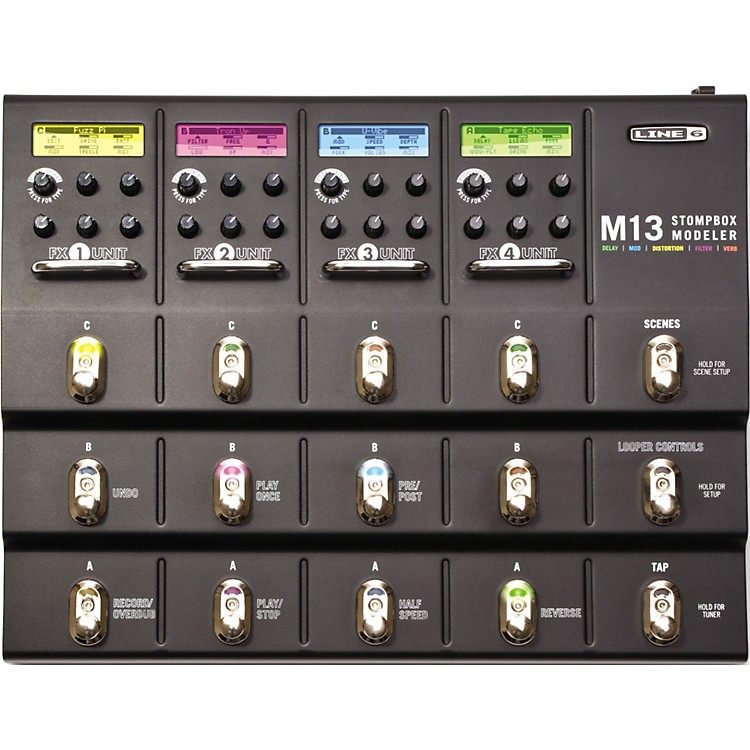 Line 6
The soul of a pedal, the power of a rack.
The Line 6 M13 Stompbox Modeler has the soul of a multi-effects pedal and the power of a rack. It boasts a complete collection of the immortal stompbox effects, stompbox simplicity, rock-solid construction, and much more.

A complete collection of immortal stompbox sounds
Teeming with over 100 immortal distortions, reverbs, delays, and more, the Line 6 M13 pedal offers instant access to an arsenal of history's most celebrated stompbox sounds.

Get 19 celebrated analog and digital delays, 18 distinctive distortions from creamy to crazy, 12 reverbs from modern (particle verb) to vintage (spring reverb) to ancient (cave reverb), 26 vibey filters including wahs and pitch effects, 22 tangy mods including expressive trems and phasers, and 12 compressors and EQs that squash, gate and color.

The Line 6 pedal lets you use up to four models simultaneously, in any order and in any combination. It's like having a gigantic pedal board (without all the tangled cords and overloaded power strips) stuffed into a convenient, easy-to-use package.

Included are all the models from best-selling Line 6 pedals and rack gear DL4 Delay Modeler, DM4 Distortion Modeler, FM4 Filter Modeler, MM4 Modulation Modeler, Verbzilla, Echo Pro and others.

Stompbox simple
The Line 6 M13 Stompbox Modeler is easy to use, just like a classic stompbox. Tweak your tones on the fly using the dedicated knobs. No menus, no saving, no hassles-just turn the knobs and you're done. And your settings remain when you power down!

Four bright LCD screens show parameter names and values, and the built-in chromatic tuner.

Built-in looper
The 28-second looper is always at the ready with dedicated footswitches for Play/Stop, Undo/Redo, Rec/Overdub, Half Speed, Reverse, Play Once, and Pre/Post. You're free to adjust your sounds while looping or overdubbing.

Up to 48 different pedal boards
Different arrangements of models, or pedal board "scenes," can be created for each of your gigs-one for your metal band, one for your punk band, one for your Top 40 gig¦you get the picture. No more tearing up Velcro just to swap one or two pedals. Create and save up to 48 scenes. (Scenes can be backed up to your computer via MIDI in/out.)

Ins and outs
M13 Stompbox Modeler plays well with others. Take advantage of the stereo FX loop and put your other effect pedals in front, behind or even in between M13 Stompbox Modeler's models.

Prepared for any live or studio situation, Line 6 M13 guitar pedal features mono/stereo inputs and outputs (with True Analog bypass or DSP bypass), mono/stereo assignable FX sends and returns, MIDI input and output and two expression pedal inputs.

Total stompbox experience
Built tank-tough with all-metal construction, Line 6 M13 multi effects pedal is designed to survive on-stage abuse. From the chassis to the footswitches, it'll withstand constant stomping.

M13 Stompbox Modeler's treasured stompbox tones, built-in chromatic tuner, 28-second looper and bonehead simplicity will prove totally indispensable (not to mention highly addictive).

Check the Line 6 website for software updates that increase the power of your Line 6 M9 Stompbox Modeler!
FEATURES
Over 100 immortal stompbox FX
19 delays, 18 distortions, 12 reverbs, 26 filters, 22 mods, 12 compressors and EQs; Universal tap tempo
Up to four FX at once in any order/combination
Models are from best-selling Line 6 pedals and rack gear
Simple design
Tweak tones on the fly without menus, saving or hassles
Built-in chromatic tuner
28-second sound-on-sound looper
Dedicated footswitches for all looper controls
Mono/stereo inputs and outputs (with True Analog bypass or DSP bypass)
Mono/stereo FX sends and returns
Two expression pedal jacks
MIDI in/out
Tough, all-metal construction
Highly addictive
Create up to 48 "scenes"
No more tearing up Velcro just to swap one or two pedals
Back up scenes via MIDI in/out
Four bright LCD screens show parameter names and values
Dedicated knobs control each effect's parameters
Easy to use: No menus, no saving, no hassles
Settings remain after power down
M13 Stompbox Modeler Guitar Multi-Effects Pedal Specifications:
19 Delays
Tube Echo
Tape Echo
Multi-Head
Sweep Echo
Analog Echo
Analog W/Mod
Lo Res Delay
Digital Delay
Digital W/Mod
Stereo Delays
Ping Pong
Reverse
Dynamic Delay
Auto Volume Echo
Echo Platter

22 Modulations
Opto Tremolo
Bias Tremolo
Phaser
Dual Phaser
Panned Phaser
U-Vibe
Rotary Drum
Rotary Drum & Horn
Analog Flanger
Jet Flanger
Analog Chorus
Dimension
Tri Chorus
Pitch Vibrato
Ring Modulator
Panning

18 Distortions
Tube Drive
Screamer
Overdrive
Classic Distortion
Heavy Distortion
Color Drive
Buzz Saw
Facial Fuzz
Jumbo Fuzz
Fuzz Pi
Jet Fuzz
Line 6 Drive
Line 6 Distortion
Sub Octave Fuzz
Octave Fuzz
Boost/Comp/EQ
Volume Pedal 

26 Filters
Tron Down
Tron Up
Seeker
Obi Wah
Voice Box
V-Tron
Throbber
Spin Cycle
Comet Trails
Slow Filter
Octisynth
Synth-O-Matic
Attack Synth
Synth String
Growler
Q Filter

12 Compressors
Red Comp
Blue Comp
Blue Comp Treb
Vetta Comp
Vetta Juice 

12 Reverbs
'63 Spring
Spring
Plate
Room
Chamber
Hall
Ducking
Octo
Cave
Tile
Echo

Dimensions: 15"W x 3"H x 11.5"D
10lb
review resources
/productDetail/reviews/productReviews.jsp
1
Loading....
Write a Review
Line 6M13 Stompbox Modeler Guitar Multi-Effects Pedal
Comments about Line 6 M13 Stompbox Modeler Guitar Multi-Effects Pedal:
With this little box you get the closest to analog warmth with the convenience of a digital interface.No need to deal with Amp set ups, use your clean JC120 or you Fender Supersonic, without affecting your tone.Awesome FXs, Crystal clear tones and cool distorted and overdriven sounds you can tweak yo your taste while matching it up with your amp.If you are looking for a cost efficient product with tons of useful tones, search no more, by far better than the GT 10s, the PODS or any system in its range, I will only compare this to the Nova system, great job LINE 6!!! Kudos from Panama city in central america.
Comments about Line 6 M13 Stompbox Modeler Guitar Multi-Effects Pedal:
i hate anything that's hard to use. i get things, and then feel ,'how can i use this when my eyes are glazed over and foggy from menus and books'. i just want to play. let's face it. these days, even cheap things are pretty high quality. cheaper tech today blows out an expensive piece from yesterday. in other words , most electronics are pretty good. to me, what separates good from bad is useability. can i use it? will i want to use it? does it make me want to use it? if you are looking at the line 6 m13, then you have an idea what it does. you have read specs, ad compared it to other things. well, what i think you need to know, then, is 'will you want to use this'? .....hell, yes! have fun, and enjoy a user / player friendly pile of steaming hot technology.
Comments about Line 6 M13 Stompbox Modeler Guitar Multi-Effects Pedal:
If you like pedals but want the ease of a multi effect processor, this is it. I play with a top-40 cover cover band 3 times a week and the M13 has made my set up and sound awesome. Everything is there at your feet. I set up the M13 through my effects loop on my Marshall JCM900. I primarily use the distortion on my amp, but to get a bluesy, old school distortion, I will switch to my clean channel and use a distortion from the M13. The distortions are OK in teh M13 and make my life easier. I even use the JETTA JUICE as a boost for solos. It's awesome and I'm glad I bought it. I have sold all my pedals except for my WAH and TUNER. The tuner is hard to see on stage. I didn't like it in my PODXT-Live either. Also through the effects loop it doesn't pick up the notes too well. Also it looks rugged but you need to remember you have some easy breakable electronics in there. A foot switch broke on mine the first month. I still don't know how it happened. If you are on the fence about buying one......just go buy it.
Comments about Line 6 M13 Stompbox Modeler Guitar Multi-Effects Pedal:
I got this for christmas i still havent used each effect for more than five minutes. The line 6 m13 has everything you could thing of. The distortions sound great even without a tube amp, the effects are perfect, and the delays and reverb are great. The synths are good but are extremely awesome once you use an expression pedal with them. You can use the q filter synth as a wah pedal, and the growler pedal as a whammy pedal synth. This stompbox has everything!
Comments about Line 6 M13 Stompbox Modeler Guitar Multi-Effects Pedal:
I've owned many Line 6 products so I may be a bit biased. I believe this is the best purchase I have made so far (Vetta, Variax500, X3Live, XTlive, Pod). It's versatile and reliable. Also the addition of the Verbzilla is wonderful. I enjoy the looper feature though so far I have not found an instance in my band where I can use it. I highly recommend if you are looking for an all in one solution for multiple pre effects stomps.
Comments about Line 6 M13 Stompbox Modeler Guitar Multi-Effects Pedal:
The M13 is an outstanding piece of gear. I've never really loved Line 6's amp/cab modeling stuff. I had the HD147 and liked it for a couple years. But I could never get the tone I wanted. Then I bought a tube amp. A Crate Palomino V32. But lost all the versatility with effects. So then I bought the POD X3L. It had no depth and took all the character out of the amp. So I went the all pedal route. Boss DD-20, L6 Verbzilla, Seymour Duncan Twin Tube Classic overdrive pedal. Blackstar HT-Dual OD/Dist, etc. I was really happy!! Then I saw the M13. I was totally floored by how many different effects that were in there and the versatility of routing the "pedals" in order of one another. ITS SO VERSATILE!! The effect quality is right up there with their 4 button stomps (DL4, MM4, DM4, and FM4) after all it was designed to encompass all of those pedals into one package that has a footprint that is just a couple inches bigger than 2 of the 4 button stomps. The tone of my amp stays the same, and I have all of the delays, reverbs, mods that I could ever use!! You can still use any of your analog pedals (I still have my Blackstar) because there is an onboard effects loop and you can route your existing effects before, after, or anywhere in the middle of the M13. Its incredible!! I'm so happy I bought this pedal, and it was worth every single penny!! Try one out for yourself and you'll be pleasantly surprised with it!! If you don't like Line 6 gear because you're a tube junkie, forget all of what you thought you knew about Line 6 and try this pedal as soon as you can. I think Line 6 may have taken a new turn with their products and this is definitely an awesome new direction for the company. This pedal rocks!!!
Comments about Line 6 M13 Stompbox Modeler Guitar Multi-Effects Pedal:
Solid, sturdy and great tones! Just got mine yesterday and it's easy to use right out of the box. The m13 will now replace many of the pedals on my pedal board! UNFORTUNATELY many of the M13's are still shipping with the old flash version. You need the update in order to unlock many of the tones like the Octo Reverb. You must have a midi connection to your computer in order to process the update. Instructions can be found at Line 6's web site.
Comments about Line 6 M13 Stompbox Modeler Guitar Multi-Effects Pedal:
Unbelievable, this stompbox offers you an infinity quality different sounds, easy to operate, lightheavy, but the most amazing of all is that it seems like you have a thousands analog pedals, it models everithing like an analog pedal. Awesome stompbox i recommend it to everyone that wants to make a sound of your own.
Comments about Line 6 M13 Stompbox Modeler Guitar Multi-Effects Pedal:
This thing is built like a tank. I really like the mod, delay and filter sounds. The looper is really easy to use. I plug it straight into my amp and since there is no amp modeling (unlike a lot of other multieffects products out there) to deal with, it sounds great live. When you go into looper mode, your stombpox sounds bounce up to the top row of switches, so you can turn your effects on and off without losing your flow.
{ "pageType" : "item_page", "placements" : "1", "placementNames" : "rr1" }