Blackstar HT Series HT-5H 5W Tube Guitar Amp Head
Product #483560
Blackstar
483560
HAABD
Tube Guitar Amplifier Heads
https://www.esnapw.com/rses/ESnapServlet?MerchantNumberSent=63655
45 day price guarantee, 45 day return policy, 100% secure shopping
MMGS7/483560000001000_MEDIA_SET
true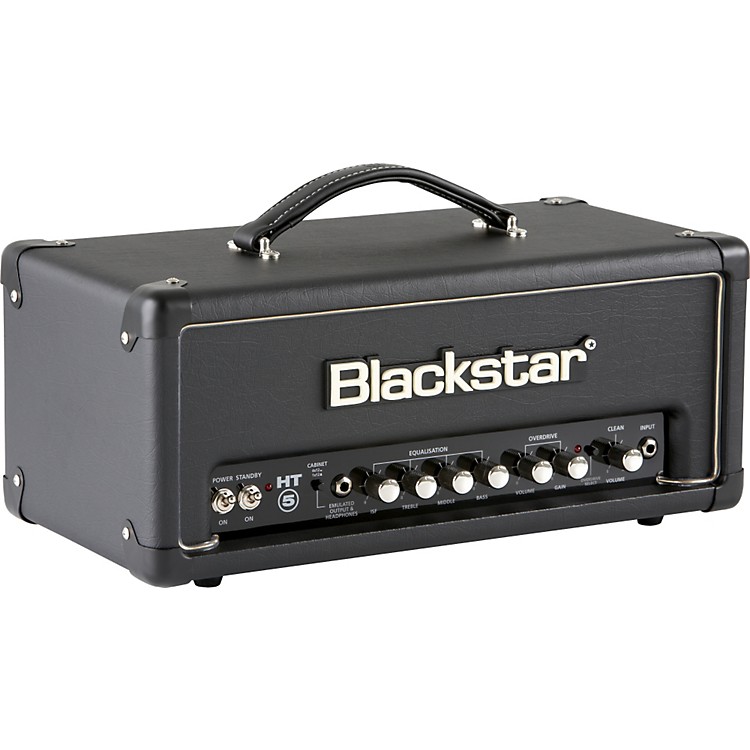 Blackstar
The fantastic tonal control of Blackstar HT pedals in a 5W amp head"it's got the sound you're looking for.
The Blackstar HT-5H tube guitar amp is ideal for studio work or practice, packing all the great tone and innovative features of the award-winning HT tube pedals into a 2-channel, footswitchable tube amp format. The Blackstar amp head's patent-applied-for ISF (Infinite Shape Feature) circuit gives you infinite adjustment over the characteristics of the tone control network and takes your tone from the USA to the UK and anywhere in-between. So now you can effectively design your own tone and finally find "that sound in your head."

Ideal for home and studio use, the Blackstar HT-5H tube amplifier head sounds full and toneful even at the lowest volume level thanks to a brand-new tube power amplifier topology designed by Blackstar engineers. The power amp is a low-powered, push-pull design which produces the crunch and breakup characteristics of a traditional 100W output stage but at a much lower volume.

The Blackstar HT-5H also has a speaker-emulated output, further enhancing its studio credentials and allowing any guitarist to get amazing tube tone straight to tape or disk, or through headphones. It also features the unique 4x12/1x12 voicing switch, allowing you to change the tonal characteristics of the emulated signal between 2 emulated cabinet types.

Add to this an effects loop with switchable level along with 16-ohm and 8-ohm speaker outputs allowing you to run the amp into an external speaker cabinet of your choice, and you have everything you need for recording or practicing.

FEATURES
Innovative 5-watt valve combo
1xECC83 and 1x12BH7
Unique push/pull power amp design
Award-winning HT Pedal preamp
Two footswitchable channels
Enhanced tone controls
Patent-Applied-For Infinite Shape Feature (ISF)
Fully equipped for studio or practice
Speaker emulated output with 1x12 or 4x12 voicing
Effects loop with effects level switch
Footswitch included
Cool vintage styling
review resources
/productDetail/reviews/productReviews.jsp
1
Loading....
Write a Review
BlackstarHT Series HT-5H 5W Tube Guitar Amp Head
Comments about Blackstar HT Series HT-5H 5W Tube Guitar Amp Head:
I bought this amp about a month ago now. I am VERY pleased with the performance. I have tried a lot of the 5 watt amps and this excels by far. The clean channel is very good in my humble opinion, with a few adjustments in tone. The 2nd channel just makes me smile. I play mostly in my basement and my larger tube amps are just too much for my family to endure lol. This amp gets used pretty much exclusively now. I am trying out a diff cabinet with two 12's in it as opposed to the vox 1x12 cab I'm using now in hopes that it gives a little more bottom end bite. If this head were to be stolen or lost i would replace it. I dont think you'll be disappointed in the performance at all.
Comments about Blackstar HT Series HT-5H 5W Tube Guitar Amp Head:
This review goes along with the Eminence Wizard review I submitted. Got this amp delivered recently, didn't have a dedicated cabinet yet (see desctiption of that below). Plugged into an old monitor I had built up, some no-name 12" speaker I had pulled out of a tower with four 12" speakers that was falling apart (particle board that had seen better times). And the monitor was not much better - 20 yrs old, regular plywood just nailed together with butt joints, baffle barely held on with just 2 wood screws, had put some fiberglass insulation in it recently to try and help get more bass ouit of it, found the different tweeters that were installed (have 4 of these bxes) were not even hooked up - and this amp sounded great thru that! I was just amazed! The clean channel sounded great even tho the enclosure didn't support much high end. The gain channel sounds awesome! The tubes somehow give an interaction with the sound that I've never heard with solid state effects, just makes it come alive - hit a chord and as it dies out you get all these great harmonics or something just hanging in there. Anyway, got a 1 x 12 cabinet in the works for it now. What a difference in the sound now - brighter, crisper, and louder! Hard to believe 5W could sound so big. The cabinet needs some twekaing, adds some funniness to the sound that I can't really describe, need a real guitar player to check it out for me. Will keep playing with the cabinet until I get the sound I want. I read about the speakers needing breaking in, waiting to start hearing some difference from that too. Built myself a little cabinet, about 18" square by 10" deep out of 3/4" birch faced plywood, got an Eminence Wizard speaker installed and it sounds great with the Blackhart 5W tube amp! The cabinet is just wood at this point. About 1/3 of the back is open. Nothing glued in place except the top & bottom to the side panels (sides have dado cut to accept the top & bottom, no fancy finger/dovetail joints) so I can play with "vent" opening and baffle placement. Right now the speaker is mounted to the back of the baffle with 6/32 screws installed from the front front of the baffle & washers/nuts on the inside, am going to try mounting to front, rouiting the front to make it sit flush, changing the opening size in the back, just having fun with these new toys! Got some knife edge inserts & socket head screws on order from MSC Industrial Supply to try also.
Comments about Blackstar HT Series HT-5H 5W Tube Guitar Amp Head:
This is a great, feature-filled amp at a bargain price. While it's aimed at studio use, I found this 5-watt head to be surprisingly loud. Plugged into my Mesa/Boogie 1x12" EVM Theil cab, it moved plenty oof air. For rhythm, it's perfect as is, with plenty of harmonic detail. While it does not have enough gain to do ultra-heavy metal, it gets a very organic destortion. Guys that play through JCM800s will love this thing. I haven't used an OD in front yet, but I'm sure it will wail. It has enough gain for classic rock lead as is; I can't wait to hear it pushed with my Fulldrive...
Comments about Blackstar HT Series HT-5H 5W Tube Guitar Amp Head:
Ok, I picked up a brand new head from music123. I've had it a couple of weeks now, and played it extensively with several guitars (usa Gibsons and usa Fender). The good news: the amp is versatile on the dirt channel and most any eq setting sounds good. The stock Sovtek 12AX7 tube is marginal at best, I replaced it with a Mullard from the 70's. You can get heavy distortion at the expense of clarity. I suspect the amp loses clarity because of the valve/solid state hybrid signal clipping circuit. Getting a slightly distorted tone that sounds good is more of a challenge. The clean channel dimed is a good option for slight crunch. The clean channel sounds sterile and stiff with very little clean headroom. All of the fun is located in the dirt channel. This amp will not keep up with even the lightest drummer. It's never gonna happen, 5 watts won't even run the cat out of the room. The amp shines for practice and recording work and this is exactly the reason why everyone should buy it. The Orange Dual Terror leaves this amp for dead, but then again it's twice as much money. Very pleased overall.
Comments about Blackstar HT Series HT-5H 5W Tube Guitar Amp Head:
This amp suits just about any type of music you would want to play. Using the ISF knob you tune your amp to the soun that you want. You may have to tinker around with it at first, but you'll definately find a sound you like. The only reccomendation i have is changing the Sovtek 12ax7 preamp tube out for something better. I put a Tung-Sol in and i ended up getting a lot more gain and the clean channel seemed a bit wamer.
Comments about Blackstar HT Series HT-5H 5W Tube Guitar Amp Head:
After spending some time with it, I can honestly say this is great bang for the buck. Awesome tone, with the ISF knob you can completely change your sound. The gain channel brings you from blues to metal with the turn of a knob. The clean channel is clear and pleasant. This amp is amazingly loud for 5 watts! I'm running my head into a Marshall 2-12 cabinet loaded with Celestions and it sounds full and powerful. I'm very happy with the Blackstar. No reverb onboard though, but it is an easy fix with a pedal. The pedal loop is a nice feature, and works well.
Comments about Blackstar HT Series HT-5H 5W Tube Guitar Amp Head:
Amazing what arrived for the money - 2 channels, footswitch, speaker emulator, effects loop w/attenuator, cables, and an actual TUBE amp...in a nice cab. Changing the 12AX7 really improved the clean tones. But, the gain side is where the magic happens. I was looking for a low-wattage sub for my Splawn (for rehearsals, home use, studio use). Tried several amps and didn't like them at all. Saw the HT-5H and bought it - plugged it in when it arrived and didn't get my jaw off the floor for quite a while. All the gain tones you'd ever want... No headroom, obviously. :D Need to use the effects loop for Delay/Chorus/etc - effects are VERY present if run before the amp w/the Pre gain structure. Takes boost and other drive pedals pretty well. Clean channel is stiff...not touch sensitive at all. But, for the price, slap a Compressor up front and go. I took this to a local music store so the folks working there could hear it - plugged the HT-5H into the closest cab and a guitar off the wall, ended up "selling" 4-5 to the employees and a couple folks standing by. That says it all... Light-weight, portable, full of tone, inexpensive... Impressive package for the money. Inexpensive tube upgrade turned a great value amp into an incredible value amp!! *****Stars!! 2 Thumbs WAY Up! Very Highly Recommended.
Comments about Blackstar HT Series HT-5H 5W Tube Guitar Amp Head:
Having heard several good things about this little amp, I was excited to plug in and try it out. When I did, I was very pleasantly surprised at how awesome this head sounded going into a 2x12. The clean channel is ok, not much headroom when you bring up the volume alot, but I don't stay much on clean. It works though. The drive channel sounds really good. Very warm and pleasant sounding drive, that in all honesty sounds better then most amps I have or have had costing 5 times as much. Gets loud enough to shake things at bedroom level, and sounds like the tubes are getting pushed at low levels, very pleasant sounding. The ISF is a nice feature, changes the mid focus noticably, but pleasant and usable in all areas. Lightweight, and EFX loop works very good, transparent, with the ability to switch +4 or -10, so many great features in this package, I can't believe the price. I would by this again in a heartbeat!
Comments about Blackstar HT Series HT-5H 5W Tube Guitar Amp Head:
Great little amp for the money. This amp will sound like a cranked up tube amp at really low volumes to all the way turned up. Goes from Marshall to Mesa with the IFS knob, its more of a mid focus knob. Gain channel has a ton of gain. For 5 watts it is very large sounding and has a tube amp feel to it. The clean channel doesn't get real loud before breakup but I find with single coils it sounds great. Effect loop is a very nice feature to add color and depth to your sound when using delay and chorus.
{ "pageType" : "item_page", "placements" : "1", "placementNames" : "rr1" }