N-Tune On Board Chromatic Electric Guitar Tuner For Single Coils
(For Single Coils) Sku #500739000720000
N-Tune
500739
LPA
Tuners
https://www.esnapw.com/rses/ESnapServlet?MerchantNumberSent=63655
45 day price guarantee, 45 day return policy, 100% secure shopping
MMGS7/500739000420000_MEDIA_SET
true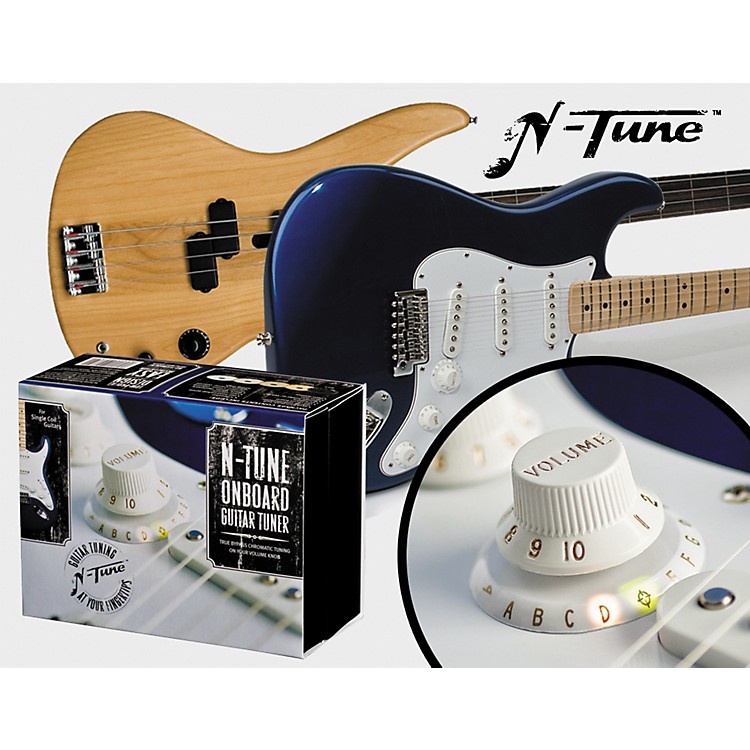 Unavailable
Item Note:
This product has been discontinued but may be available as a Open Box item.
Similar Items
See All N-Tune Tuners
Professional onboard chromatic tuning at your fingertips.
N-Tune is an exceptionally convenient solution for fast, accurate guitar tuning. Whether you're in the studio, on stage, or just practicing, simply pull your guitar's volume knob and use N-Tune's super-bright display to silently tune up in seconds. Then push it back down to play"with perfect tone, thanks to N-Tune's true-bypass design which removes all tuning circuitry from your guitar's signal path.

N-Tune is available as an aftermarket kit that can be easily installed into almost any electric guitar. All you need is your existing volume knob and some standard soldering tools. Best of all, no permanent modification of your guitar is required.

FAQ
So what exactly is N-Tune?
N-Tune is the world's most convenient solution for fast, accurate onboard guitar tuning. It installs under your electric guitar's existing volume knob, and provides a bright, LED-based tuning ring with true-bypass circuitry for perfect tone. Using N-Tune, you just pull your volume knob to silently tune up in seconds; then push it back down to play. No lost tuners, no extra cables, no loss of tone, and ultra-quick tuning-ups"whether you're practicing, in studio or on stage. Technically, N-Tune consists of a switching potentiometer, a wiring harness, plastic display discs, a circuit board, and a battery holder.

Will N-Tune work in my guitar?
N-Tune is designed to fit in the majority of electric guitars, however some guitar styles or features may prevent or complicate the installation of N-Tune. In deciding whether or not N-Tune is for you, please consider the following:

Active pickup systems: N-Tune is currently not supported on guitars with active systems (passive pickups with an active preamp or true active pickups).

Hollow-bodies: N-Tune is typically installed by removing your guitar's control cavity cover or pick guard to access your guitar's electronics. However, on many hollow (and semi-hollow) bodied guitars there is no easy access to the inside of your guitar, which makes installation difficult. In these cases, N-Tune would be installed by removing the bridge pickup and working through a combination of that space and the lower F-hole. If your local guitar tech is comfortable swapping a pot in your hollow-body, he or she can likely install N-Tune as well.

SGs and other thin-bodied guitars: Depending on the manufacturer (Gibson, Epiphone, etc), the specific model, and the year, many SGs will be too thin to support an N-Tune installation. In particular, the Gibson branded SGs are often too thin, while Epiphone and other similar styled guitars are usually thick enough to support N-Tune. If you have an SG or another thin guitar, you can measure the depth inside of the control cavity of your guitar. N-Tune requires 29mm (nearly 1-3/16") of depth to fit in your guitar properly without interfering with the control cavity cover (or pick guard).

Les Paul and other thick-topped guitars: Some guitars are too thick to support the current version of the N-Tune push/pull volume pot (be it because of an especially thick top or a metal "grounding plate"). The N-Tune pot's threaded bushing length is 13mm (distance from pot body to the bottom of the knurl). Once you add the N-Tune and associated hardware, 6.5mm of bushing remains for fitting through your guitar's top. While N-Tune comes with an extra nut that can be used to set the pot depth in the control cavity (to make sure your volume knob does sit up too high), there isn't anything in the box that will add more length to a pot that is too short. So, if your guitar's top is more than 6.5 mm thick, then you may have a problem with the current kit.

Fender Stratocaster pickup screw: On Fender Stratocaster guitars, N-Tune partially covers the bottom adjustment screw of the bridge pickup. The N-Tune kit ships with a flat-head screw to replace the existing screw. The hole for pickup adjustment screws is already counter-sunk in most pickguards, but if yours isn't, it is possible you will need to countersink that hole to make the screw sit down flat. An implication of this is that in order to adjust the height of your bridge pickup, you might need to remove your volume knob and the N-Tune tuning ring from your volume pot depending on what screwdrivers you have available. This takes just a few minutes though and doesn't require you to uninstall your N-Tune. On nearly every similar guitar from other manufacturers, N-Tune does not cover the pickup adjustment screw.

Fender Telecaster: N-Tune fits (albeit snugly) inside a standard Fender Telecaster. The only caveat is that the tuning ring is slightly wider than the chrome control cavity cover. This does not affect the functionality of your N-Tune in any way, but may be an aesthetic issue for some.

Can N-Tune be used in guitars other than Gibson and Fender?
Of course it can. The main difference between the kits is the potentiometer value (500k vs 250k). Pick the one that is right for your application and install away.

What's the difference between the Fender and Gibson kits of N-Tune?
The Gibson kit contains a 500k potentiometer and black and cream discs to match the plastic on many Gibson style guitars. The Fender kit has a 250k potentiometer and white, black, parchment and cream discs to match the plastic on many Fender style guitars.

How long does it take to install N-tune?
Installation normally only takes 10 to 15 minutes. It does require the use of a soldering iron, so if you've never used a soldering iron, we recommend you take your guitar to your local guitar tech and have him or her perform the installation.

How does the tuner work?
When you pluck a string on your guitar, N-Tune automatically detects the note and the LEDs indicate whether that note is sharp, flat, or in tune. As you adjust the machine heads on the headstock of your guitar, the sharp/flat LEDs flash faster as you get closer to perfect tune. Once the string is in tune, the LED stops blinking and turns solid green.

Does N-Tune support alternate tunings and half step tunings?
N-Tune is a fully chromatic tuner, meaning it allows you to tune any string on your guitar to any note. This is extremely valuable when the songs you're playing require alternate tunings. For example, let's imagine you want to play Soundgarden's "Black Hole Sun" or Foo Fighter's "Everlong," both of which require Drop D (DADGBe) tunings. N-Tune allows you to achieve this tuning easily: Just pull up on the volume knob to turn N-Tune on, adjust the Low E string to a D using the LEDs to guide you, and push the knob back down to start playing. There is nothing to plug-in, un-plug, or calibrate.

Additionally, N-Tune quickly allows you to achieve half-step tunings on any string. Let's say the crowd wants to hear Nirvana's "All Apologies," which requires a Drop D tuning with each string tuned down a half-step (DbAbDbGbBbEb or, as we like to call it, CCA). No problem! N-Tune's tuning ring has an extra amber-colored sharp symbol LED that will light up simultaneously along with any amber note LED as you tune that note sharp. Thus, for example, to tune an F#, you just watch for the amber "F" note LED AND the amber "sharp symbol" LED to both light up. Then, the flashing red sharp & flat LEDs (and ultimately the green LED when you get in tune) guide you in just like they would for any other note. Oh, and remember, N-Tune mutes your guitar while you're tuning, so you can switch to alternate tunings silently on stage between songs.

How do I know the tuner is turned on?
When N-Tune is activated, it lights up to indicate its powered-on status.

What is the range of the N-Tune tuner?
The effective range of the tuner is from 27Hz to 3.52kHz (A0-A7).

How accurate is N-Tune?
It is accurate within +/- 2 cents.

How long does it normally take to tune my guitar?
Less than a minute.

How long do the batteries last?
N-Tune is powered by a standard 9-volt battery. This will power N-Tune for approximately 600 tunings.

What happens to the output signal once you turn on N-Tune?
When engaged, the tuner mutes the output signal.

What happens if I accidentally leave N-Tune turned on?
N-Tune automatically powers down after one minute of inactivity.
FEATURES
Fast, accurate guitar tuning
Silently tune up in seconds (when engaged, the tuner mutes the output signal)
Easy installation on almost any electric guitar using some standard soldering tools
No permanent modification of your guitar is required
Automatically detects the note
LEDs indicate whether that note is sharp, flat, or in tune
Allows you to tune any string on your guitar to any note
Quickly allows half-step tunings on any string
Lights up to indicate its powered-on status
The effective range of the tuner is from 27Hz to 3.52kHz (A0-A7)
It is accurate within +/- 2 cents
Normally takes less than a minute to tune my guitar
Powered by a standard 9-volt battery for approximately 600 tunings
Automatically powers down after one minute of inactivity
On Board Chromatic Electric Guitar Tuner Specifications:
Note Range: 27 Hz to 3520 Hz (notes A0"A7)
Accuracy: +/- 2 cents
Input Source: Instrument pickups
Battery Life: Estimated at over one year's worth of tuning (600+ tunings). The tuner automatically powers down when not in use to conserve battery life
Power Requirements: One 9V battery
Physical Dimensions
Tuner Disc with LED circuit board:
Height: 1.35"
Width: 1.35"
Depth: 0.12"
Potentiometer Body:
Height: 0.98"
Width: 0.72"
Depth: 0.94"
review resources
/productDetail/reviews/productReviews.jsp
1
Loading....
Write a Review
N-TuneOn Board Chromatic Electric Guitar Tuner
Comments about N-Tune On Board Chromatic Electric Guitar Tuner:
Overall, I really enjoy this product. It tunes very accurately and is a very slick design. It has a nice wow factor and is usually completely unexpected. I love that I have it with me wherever I have my guitar, without worrying about accidentally misplacing it etc. I installed it myself and the only issues I had were a tiny bit of excess solder that shorted to ground and I had to extend the power wires so I could locate the battery in the rear cavity, which is 100x more convenient to get at than if it were in the front cavity.

My only real complaint, which is tiny, is that even the whitest cover plate was not as white as my standard white pick guard and knobs. However, it was close enough that it's hardly noticeable unless I point it out.

As a perfectionist and only an amateur solderer and wood worker, it took me the better part of a day to complete. I really enjoyed the project, but I wouldn't suggest trying to DIY if you lack patience, get worried when you accidentally desolder a joint, or are a novice.

The power wires could have been another couple of inches longer to start, to allow the battery to be placed anywhere, front or back, without alteration, but were not a big deal to fix. I had to buy a differently oriented 9V clip to fit it in the back cavity without routing it beyond the edge of the rear cavity plate, but that was only $1 for 2 at "the shack."

All in all, highly recomended, a quality product, and a fun project. I wish I had a reason to install another.
Comments about N-Tune On Board Chromatic Electric Guitar Tuner:
WOW! what a cool product, I tracked the delivery date and was standing at the door with my soldering iron in hand. Taking my time, never instaling something like this before. It took about 2.5 hours from disassembly until I was playing. I decided to install the N-Tune on my Favorite Guitar, which is my dual humbucker Strat. To start, the N-Tune is top quality and everything you'll need is in the box. The instructions are very easy to follow (you need to read them.) Two tips that may help with the installation. One, put the 9v battery in the lower portion of the body cavity with out blocking the hole for your input jack wires. Two, while you have everything apart make sure your input jack wires are long enough to completely remove your pickguard to replace the battery with out having to snip and resolder the input jack wires. First test, the L-E-D indicators are very brite and easy to read, you never need to unplug the guitar to tune. I can tune in less than 20 seconds, mash the knob and continue playing. The N-Tune is a must for your best axe.
Comments about N-Tune On Board Chromatic Electric Guitar Tuner:
I have personally Installed these tuners in my Fender Strat, Squire Bass and Brian Moore Midi Guitar. This is really a cool product. The install is straight forward and easily done. You basically swap out a volume Pot with the one provided in the Kit. There are 2 available kits. One 250K for (Single Coil strat type) and one 500K (Dual Coil Humbucking type). In use you simply pull the knob out and it automatically takes your guitar out of line for silent tuning. The trim ring (provided in Cream, White,Black) has the string notes and Sharp ,Flat and "in tune" LED lights fior tuning ease and when your done tuning ,you push the knob back in and your done. I also am enjoying the Tuner when I change strings as I don't need a seperate tuner and cable . I simple re-string the guitar and use the onboard tuner. The 9 volt battery lasts approximately 1 year or thousands of "tuning". All in all an excellent ,low cost and very convenient product.
{ "pageType" : "item_page", "placements" : "1", "placementNames" : "rr1" }