Rupert Neve Designs Portico 5032 Mic Pre / Equalizer
Product #482647
Rupert Neve Designs
482647
YFM
Channel Strips
https://www.esnapw.com/rses/ESnapServlet?MerchantNumberSent=63655
45 day price guarantee, 45 day return policy, 100% secure shopping
MMGS7/482647000000000_MEDIA_SET
true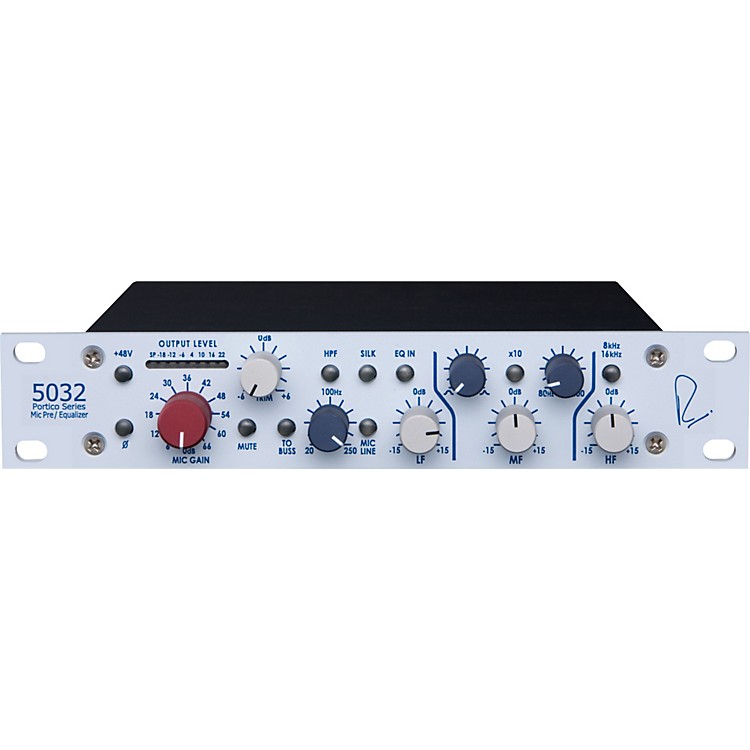 Capture that great Neve sound with this top-notch compact Preamp/EQ Module.
The Rupert Neve Designs Portico 5032 is a single channel microphone preamp and equalizer with an independent transformer coupled Line level input for the EQ section. The Portico Series 5032 includes a full-featured mic pre identical to the Neve 5012 with the addition of a flexible 3 band equalizer in the Rupert Neve tradition. The Neve Portico 5032 is equipped with high and low frequency shelving curves and a parametric mid band covering 80Hz-8kHz in 2 ranges.

The Neve 5032 module is a half rack width, 1-3/4" (1U) module in the now well-known Portico style. The 5032 mic pre and EQ is ideal for both tracking and mixing applications with selectable mic or line inputs. Both paths have full access to the EQ, phase, Silk and mute making the Neve Portico 5032 the ideal choice for either standalone operation, or to form the core of a larger mixing system. As with the entire Portico Series, the 5032 boasts a heavy and robust steel shell that provides total magnetic screening and exceptional mechanical stability. The front panel is machined from a solid 1/8" aluminum plate with a steel sub panel behind it.

Portico Series Awards:

Rupert Neve Designs has been honored three TEC Awards since its inception in 2005. The Portico 5015 Mic Pre/Compressor (#482645) won for achievement in the category of Mic Preamplifier Technology. The Portico 5042 "True Tape" Emulator #482649) won for achievement in the category of Signal Processing Technology/Hardware. The 5088 Discrete Analogue Mixer won for achievement in the category of Large Format Console Technology.

Rupert Neve Designs received the Mix Certified Hit Award in 2006 for the 5088 Console and the Portico Range.

Rupert Neve Designs received the Future Music Platinum Award for the Portico Range in 2007.

Alternative front panel layouts are available providing a choice of vertical or horizontal mounting. When the horizontal front panel is chosen, a single Portico 5032 can sit firmly on a bench or desktop on its detachable rubber feet. 2 Neve 5032s can be joined with the optional Horizontal Joining Kit ( #482653) and mounted across a standard 19 rack. When the vertical option is chosen, up to 8 of the Portico 5032s can be mounted in the optional Vertical Frame. This leaves a 3 wide space that can be used to house a power supply or monitor unit. The vertical frame assembly is designed for rack mounting and includes basic rear cable management. Blank panels are available to fill any unused spaces when the full complement of 8 modules is not fitted into the optional vertical frame.

The Portico 5032 module comprises a single microphone preamplifier identical with those found in the Neve Designs Portico 5012, and a new 3-band Equalizer. The output stage is identical with that of the Portico 5012, using single-sided circuitry, driving a carefully configured output transformer that can deliver a full + 25dBu from the balanced and ground-free secondary winding.

THE EQUALIZER

The subtleties of audio circuit design as relating to sonic performance are becoming more clearly understood by designers and professional users. For example, it is evident that frequencies above 20 kHz and incredibly small distortion and non-harmonic artifacts, affect the way that humans perceive sound. Specifications and measurements do not fully disclose these sonic qualities that are important to sound engineers and musicians. There is no substitute for hours of patient listening and experimental bench work that results in the sweet and silky sound of my classic designs.

Low Shelf and High Shelf

The Portico 5032 Equalizer makes use of both a high-frequency and low-frequency shelving characteristic that provide steeply rising or falling curve shapes. Such curves, when used aggressively, enable second and even third harmonics to be varied in relation to a fundamental, allowing the natural sound of a musical instrument to be varied. Used less aggressively, bands of frequencies above or below the turnover frequency can be adjusted to desired levels.

These sections each provide EQ curves that approximate to 6dB/Octave with a boost or cut of up to 15dB and a true flat response at the center of the control track. Frequencies chosen for these turnover points are the result of critical listening and follow traditional equalizer patterns.

Peak EQ (MID-BAND)

This section provides a very wide range of frequencies in two bands with a powerful Q or bandwidth control. The range of boost or cut is ±15dB with a true flat response at the center of the control track. The steepness of the actual curve slopes can exceed 6dB/Octave which results in a powerful chisel type of tool. The Q control offers completely variable bandwidth, from very narrow to super wide, having a range of Q = 0.6 to Q = 3.0. The base band covers 80Hz to 800Hz, which is important when dealing with the body of a spectrum or for thinning a muddy acoustic environment. A x10 button multiplies the frequency of the base band by x10 (i.e. it provides continuity from 800Hz to 8.0kHz).

Mic/Line Inputs:

Separate mic and line inputs may be selected. With both inputs, phase, silk, HPF, and the 3 bands of EQ are available for use.

Low Shelf:

Fixed 150Hz frequency with continuously variable gain of ±15dB

Mid Parametric Band:

Continuously variable frequency in two ranges from 80 Hz to 800Hz and 800Hz to 8kHz, selected with the 10x push button; continuously variable Q; continuously variable gain of ±15dB

High Shelf:

Fixed 8kHz and 16kHz frequencies selected with the 8K/16k push button; continuously variable gain of ±dB

EQ In:

Engages all three bands of EQ

Silk:

Much could be written about this feature, suffice to say, that it gives a subtle option to enhance sound quality in the direction of vintage modules. The Silk button reduces negative feedback and adjusts the frequency spectrum to provide a very sweet and musical performance. We suggest you try it and make your own judgment.

Level Meter: -30dBu to +22dBu With reference to the output

Mute:

Cuts of the output signal post metering and pre bus output. Be sure to mute the outputs before engaging phantom power.

High-Pass Filter:

The high-pass filter is a valuable aid in any signal chain but particularly so in a microphone preamplifier. Signals between 20 and 250Hz can be attenuated, leaving the range above this unaffected. This gets rid of building rumble, air handling motor hum etc.

Phantom Power: Provides 48V phantom power to microphones

Bus Output:

The To Buss output is unbalanced and has a high impedance output. It is intended for use with the Portico bus amp/monitoring modules. A TRS patch cord is used to connect the 5012 bus output to one of these bussing modules. The Monitor connection is derived pre mute on the 5012 and will produce a signal at the output of the buss modules that is equal in level to that at the 5012 output. The Monitor output cannot be used for any other purpose.

Phase Invert:

Flips the phase of an incoming source 180 degrees


Rackmounting Porticos:
If you'd like to rackmount a single Portico, Neve offers the Half Rack Joining Kit (see #482654). Or to rackmount two Portico units, Neve offers its Horizontal Joining Kit (see #482653). Another option for mounting single half rack units is the Raxxess Universal Rack Shelf (see #421642).


Mr. Rupert Neve " the grandfather of pro audio

If anyone could be considered for the title, "Grandfather of Pro Audio," the first name that would leap to mind would be Mr. Rupert Neve.
Recognized as the developer of the modern mixing console, Rupert's handiwork is found in thousands of studios around the world.

In 1997, Rupert became one of a very few personal recipients of a Technical Grammy award. In awarding his Grammy, the Recording Academy acknowledged Rupert's profound impact on the industry:

Mr. Rupert Neve Grammy Honors

"For setting the standard for quality sound reproduction through his engineering and his innovative designs, which have made possible unparalleled advances in the quality of recorded sound; in recognition of his influence on a generation of audio designers; and for his dedication to purity of audio reproduction."

The morning following the amazing Grammy Awards ceremony in February 1997, Rupert and Evelyn Neve hired a stretch limo to take them to the airport. After all, for that day at least, Rupert was a star. Carrying the coveted Grammy Trophy in its distinctive blue Tiffany bag, they headed for security.

"What is this?" the security guard asked, puzzled by the strange image on her screen. "It's our Grammy," Rupert replied. The girl looked startled and in hushed tones said, "I'm so sorry sir. You'll have to check this. We can't carry ashes in the cabin."

"No, no, no," Rupert explained. "My Grammy - not Granny. Have a look if you like." She opened it up and for a moment security at the airport came to a standstill as girls screamed and all gazed in awe at the beautiful replica gramophone. It was almost the best moment of the whole proceeding.

Mix Magazine Hall of Fame

In 1989, Rupert was inducted into the Mix Magazine Tech Awards Hall of Fame in recognition of his lifetime contribution to excellence in recording and sound.

An Elite Fraternity

In 1999 he was honored as "Man of the Century" by Studio Sound magazine. At the turn of the century, Studio Sound conducted a survey inviting readers to vote for the Top Ten personalities of the industry in various disciplines. The first was Audio Personality.

It is Rupert's prized honor to have been selected by his peers in the Pro Audio business as number one Audio Personality of the 20th Century.

At the turn of the century, Studio Sound conducted a survey inviting readers to vote for the Top Ten personalities of the industry in various disciplines. The first was Audio Personality.

The Audio Century: Top Ten Audio Personalities of the 20th Century

1. Rupert Neve - champion of audio quality
2. Ray Dolby - household name
3. Sir George Martin - people's producer
4. Willi Studer - tape machine pioneer
5. Colin Saunders - founder of SSL
6. Alan Blumlein " inventor
7. Georg Neumann - microphone Designer
8. Michael Gerzon - mathematician
9. Valdemar Poulsen " inventor
10. Les Paul - guitars and multitracks

Features
Single channel mic pre/EQ
Compact half9rack width
Selectable mic or line inputs
Flexible 3-band equalizer
High- and low-frequency shelving curves
Heavy-duty construction
Engineers and producers find that Neve EQ alone is well worth the price of admission — so ordering a Portico 5032 is almost like getting a free Neve preamp thrown in.
Portico 5032 Mic Pre / Equalizer Specifications:
Frequency Response: Main Output, no load, "0.2 dB @ 10Hz; "3dB @ 160 kHz
Noise: Measured at Main Output, unweighted, 22Hz-22kHz,
Terminated 150 ohm.
With gain at unity better than "100 dBu
With gain at 66 dB better than "62 dBu
Equivalent Input Noise better than "128 dBu
High Pass Filters: Continuously variable swept frequency from 20 Hz to 250 Hz.
Slope: 12 dB/Octave
Gain: Unity to +66dB in 6 dB steps,
Trim continuously adjustable from "6dB to +6dB
Buss Output: Output is designed to feed a Buss-mix Amplifier (ie. Buss inputs on 5043) at the
internal system level of -2.5 dBu.
Maximum Output Level: Maximum output from 20 Hz to 40 kHz is +25 dBu.
Mute: Mutes Main Output only.
Total Harmonic Distortion and Noise: @ 1kHz, +20 dBu output:
Main Output: Better than 0.001% @ 20Hz, +20 dBu output:
Main Output: Better than 0.002%
Silk Engaged: Better than 0.2% Second harmonic
Equalization:
Low Shelving EQ:
± 15dB boost or cut. Corner frequency 160Hz
High Shelving EQ:± 15dB boost or cut. Corner frequency 8kHz 16kHz switch selectable
Mid Peak EQ: ± 15dB boost or cut. Continously variable frequency, 80 to 800Hz or
800Hz to 8000Hz switchable
Phantom Power: +48 Volts DC ± 1%
Power requirements: Voltage range: 9 to 18 Volts DC
Current consumption:
@ 9VDC Current is 910 mA typical: Power = 11.7W
@ 12VDC Current is 670 mA typical: Power = 12.0 watts
@ 15VDC Current is 530 mA typical: Power = 12.0 watts
@ 18VDC Current is 450 mA typical: Power = 11.7 watts
Connector: 5.5mm X 2.1mm DC jack, Center Positive

review resources
/productDetail/reviews/productReviews.jsp
1
Loading....