Ableton Live EDM Package 2
Product #H92092
Ableton
H92092
YUE
Mixing & Mastering Software
https://www.esnapw.com/rses/ESnapServlet?MerchantNumberSent=63655
45 day price guarantee, 45 day return policy, 100% secure shopping
MMGS7/H92092000000000_MEDIA_SET
true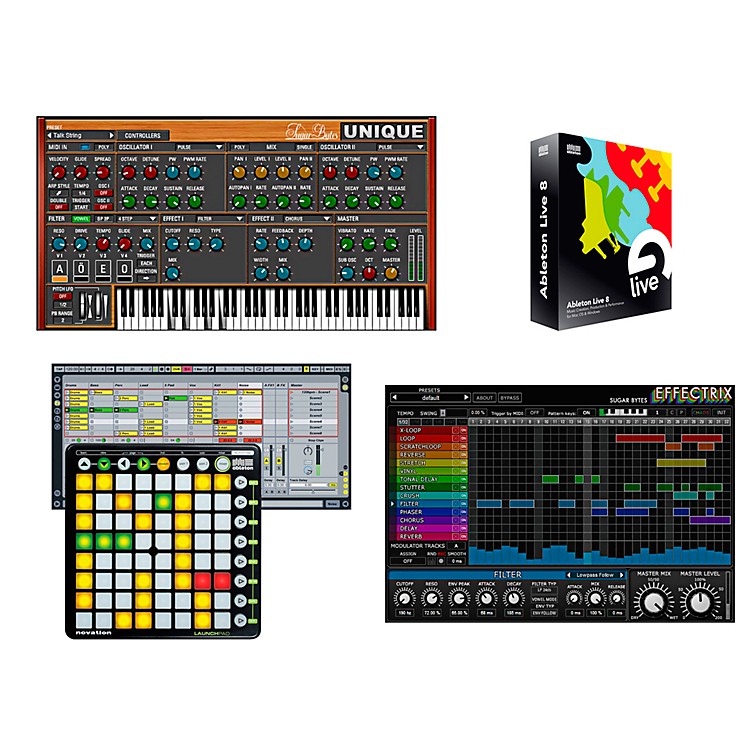 Advanced EDM Package with software, controller and extra sounds.
The Ableton Live EDM Package 2 includes the full version of Ablewton Live 8, the Novation Launchpad Control Surface for Ableton Live, SUGAR BYTES Effectrix and SUGAR BYTES Unique. Ableton Live 8 has established itself as a premier EDM production suite. It is a unique ini ts usefulness as not only a dance music prduction center, but also as an incredible live instrument. On stage or in the studio, it is an indispensible tool for the creative electronic musician. The Novation Launchpad controller is versatile, easy to use, and super portable and low profile. The SUGAR BYTES virtual instruments have been embraced by the EDM community as both sonically thrilling from an audio perspective and consistently useful from a musical, compositional perspective.

Ableton Live 8
One of the ways Ableton Live 8 software is an advantage to you, especially in the live setting, is its two main views which allow you to do all your work within a single application. The Session View is essentially a musical scratch pad. You can work out new ideas and improvise in a free and easy production environment. Each cell in the Session View grid can hold a recording, MIDI file, or any other musical idea, whether they're recorded on the spot or dragged in from the browser. Then you can play your musical ideas in any order or any time you wish. The Arrangement View takes a more traditional, timeline-based approach to multitrack recording, MIDI sequencing, and other music production tasks. It will record all your actions as you improvise in the Session View, allowing you to edit them whenever you like. Either view you use is simple and basic enough to make your tasks simple and efficient, which is especially useful during a live performance. This makes it a perfect creative tool for studios, beat creators, DJs, sound designers, and anyone who wants to have fun producing music.

Version 8 enhances the Ableton vision of creative, real-time digital music with a wealth of improved techniques, effects, and workflow improvements:

New groove engine
Groove patterns can add life and swing to straight sequences. Live 8's groove engine lets you apply groove patterns in real time, extract grooves from audio or MIDI sources, and quantize audio and MIDI in real time. It also comes with a groove library.

New warping engine
Ableton Live 8 introduces a more direct way of working with warping and some important Warp Mode enhancements. You can now warp audio events by adjusting the events themselves on the timeline. Beats Mode has been updated, and there's a Complex Warp Mode. Plus, you can slice audio files to MIDI tracks based on transients.

Looper
A much-requested feature, the Ableton Looper effect gives you classic sound-on-sound looping without the limitations of a hardware device. Looper is set up for remote operation, so you can record, overdub, undo, and more without touching the computer.

New effects
Ableton Live 8 includes five powerful new effects: Vocoder, Multiband Dynamics, Overdrive, Limiter, and Frequency Shifter. These effects cover all the well-known aspects of these devices, but really shine due to some innovative features and enhancements from the Ableton labs.

The Novation Launchpad Control Surface

The Novation Launchpad Control Surface communicates bi-directionally with Ableton Live software to give you real-time session feedback. Now you really can Play Live. Launchpad ships with a dedicated 'Launchpad edition' of Ableton Live 8, but can control almost any other music software using Novation's award-winning Automap control software.

Launchpad was jointly designed by Novation and Ableton to bring the features of Live to modern musician's fingertips. The 8x8 grid of backlit buttons addresses a multitude of functions with the help of mode selectors that transport you around the Live interface.

Flip from launching clips to tweaking mixer settings in a stroke. Launch your song into a heavy buildup, then switch to a synth or a drum machine for an impromptu solo at the touch of a button. It's all possible on Novation Launchpad, and all without touching the mouse or keyboard!

Novation Launchpad is bus-powered from a single USB connection, and has a 10" square desktop footprint. Rubber feet ensure Launchpad stays secure on the surface on which it's placed, and an optional padded neoprene travel sleeve is available. It ships with a USB cable, plus a DVD ROM with Mac and PC installers for a special 'Launchpad Version' of Ableton Live 8, as well as 1GB of sample content from Loopmasters and Mike The Drummer. It also comes Automap enabled.

Automap Control
A Novation Launchpad can also control other DAWs and plug-ins using Novation's Automap control software. Automap can assign controls to software parameters on VST/AU/RTAS/TDM plug-ins by simply clicking on them, and touching a controller!

¢ Automap-enabled " For instant, intelligent control over VST/AU/RTAS/TDM plug-ins and all MIDI compatible standalone software applications.

¢ See what you're triggering "
Automap provides a customizable heads-up transparent display across your computer screen. Ideal for seeing at a glance samples that you're about to trigger.

¢ Unleash the power of QWERTY keyboard shortcuts " Automap PRO, an optional upgrade available to purchase online, lets you assign almost any computer keyboard shortcut, and combinations thereof, to Launchpads buttons.

¢ Old-school MIDI control " Utilising Automap, Launchpad can operate as a standard MIDI controller, creating custom MIDI maps with 72 of its buttons transmitting either CC or MIDI note data.

¢ Flexible trigger platform for Max MSP and Reaktor programmers " Programmers can utilize variable brightness and multicolor LED states to their full advantage when designing new and innovative tools in Max MSP and Reaktor.


SUGAR BYTES Unique
The Unique synthesizer specializes in state-of-the-art vowel sounds and mighty, mighty analog keyboard sounds. With Unique, it takes just a right click on a control and complex parameter rides with internal and external controllers become a joyride.

Oscillators
The source of the Unique' truly distinctive sounds are its direct and powerful sounding oscillators. The Triple Saw and the Triple FM algorithms cover such a wide range of sounds. The noise oscillator with built-in filter can be used in a tonal mode, the right choice for the vowel filter.

Filters and their modulators
The actual intention behind this project also became its outstanding feature: the Vowel Filter mode. The oscillator sound can be transformed to vowel formants in many different ways. The juicy filters can also be used in classic mode, so Unique is fitted for standard situations as well. Each of the five filters (with internal analog signal processing) again has five individual modulators for creating outstanding Vowel and Filter movements. The modulators can be triggered in many different ways: for example with the lowest note played, the first note played or even with the sequencer clock or the arpeggiator. Yet another stunning Unique feature: The internal LFO´s have fade algorithms for rate and intensity.

Controllers and Effects
The internal controllers section contains a recordable XY field and is very easy to manage with just a right click on any control. Feedbacks go from the Controllers section rocks!™ to the Controllers section just blows me away!™ The effects section contains two chained multi effects, each of them with six effect algorithms. So once you™ve built your sound, there' tons of sound polish.
¢ Distinct virtual software synthesizer with analog keyboard sounds
¢ Specializes in state-of-the-art vowel sounds
¢ Direct and powerful sounding oscillators create truly distinctive sounds
¢ Oscillator sound can be transformed to vowel formants in many different ways
¢ Easy right click management of internal controller' recordable XY field

SUGAR BYTES Effectrix
Effectrix from SUGAR BYTES is a plug-in effect that offers instant gratification for track manipulation. With just a few clicks you can tweak drum loops, create new rhythms, reverse parts, stretch others, apply delays, and even create abstract melodies with atonal material. With 14 different available effects to choose from; X-loop, loop, scratchloop, reverse, stretch, vinyl, tonal delay, stutter, crush, filter, phaser, chorus, delay, and reverb; you can think up with countless combinations, or even run them all at once! And with a step sequencer provided for each individual effect, you can choose just where and when each effect will be active over a 32-step sequence.

Use innovative looping effects that not only loop passages in realtime, they also can be scratched, stretched, reversed or modulated in loop size and pitch. Effectrix also gives you two advanced scratching effects for placing scratches exactly where they belong in your arrangement. Use the Scratch Looper / Vinyl Effect to scratch your tracks at any time, using different methods and the advanced possibilities that open up using the modulation tracks. The Scratch Looper gives you advanced in-depth controls to create stunning scratches. The Vinyl effect scratches the signal without looping it and serves with the Stop Mode, which gives you the classical sound of a vinyl record being stopped with your hand.

Effectrix also has the ability to be controlled via MIDI for incredible performance abilities. Stun your audience with grooving sounds and breaks, which needed hours of editing in the past. If you use Effectrix in "Run on MIDI note" mode, the effect sequences will only be played when you hit a MIDI note. That way you can modify your live audio and introduce exciting breaks at any time.

Use Effectrix on the master bus or on single tracks, experiment with several Effectrix instances in chain, trigger effect sequences with midi notes or let Effectrix run permanently. Play with grooves like never before. Put a reverb exactly onto the snare, introduce delay lines on certain places in your groove, and create new kinds of sounds by relooping looped or scratched stuff. Effectrix is an instrument with an endeless depth of possibilities.
Order today and experience truly professional electronic dance music production.
Live EDM Package 2 Specifications:
Ableton Live 8
System requirements:
Mac: 1.25 GHz G4/G5 or faster (Intel Mac recommended), 1 GB RAM (2 GB recommended), Mac OS X 10.4.11 (10.5 or later recommended), DVD-ROM drive
Windows: 1.5 GHz Pentium 4 or Celeron compatible CPU or faster (multicore CPU recommended), 1 GB RAM (2 GB recommended), Windows XP or Windows Vista, Windows compatible sound card (ASIO driver support recommended), DVD-ROM drive, QuickTime recommended

Novation Launchpad
Physical controls and Indicators
64 (8x8 grid) square multicolor backlit buttons
8 round multicolor backlit system buttons (assignable)
8 round multicolor backlit function buttons (not assignable)
Connectivity: L-shaped USB 1.1 connector.
Minimum Operational Requirements
Macintosh
OS: 10.4, or later recommended
Computer: G4 or faster/Intel Mac
Memory (RAM): 512MB RAM/1GB recommended
Windows
OS: Windows XP or Vista
Computer: 1.5GHz or faster
Memory (RAM): 512MB RAM/1GB recommended
Dimensions: W = 240 mm / 9.45", H = 20 mm / 0.79", D = 240 mm / 9.45"
Weight: 717gms /unit

SUGAR BYTES Unique
Compatibililty:
MacOSX 10.4.0 and higher, 2 Ghz, 256 Mb Ram
Windows XP and higher, 2 Ghz, 256 Mb Ram
Interfaces:
Mac PPC, Intel: VST / AU / RTAS / AAX
WIN XP, VISTA: VST / RTAS / AAX
Standalone version
Oscillators
Sawtooth
Triple Saw
Pulse
Triple FM
Noise (with tonal filter)
Sub Sine (in master section)
Filters
2 Pole Highpass
2/4 Pole Bandpass
4 Pole Lowpass
Comb Filter
Integrated Modulators:
Envelope
LFO
4 Step Sequencer
Pitchbend
Modwheel
Controllers
Internal:
Lfo
Envelope
8 Step Sequencer
Motion (Recordable XY Field)
External:
Midi Learn
Host Automation
Effects
Two chained Effects devices give you some additional power to make your sounds stand out!
Reverb
Filter Delay
Chorus
Phaser
Lofi
Multimode Filter
Vibrato (in master section)
Auto Pan (in mix section)
Special
Unisono/Polyphonic
Polyphonic Glide
Duophonic Arpeggiator per Osc Polyphonic (Auto)Pan per Osc
Vowel Filter Mode
Two chained Multi Effects
Many Trigger Modes for Modulators

SUGAR BYTES Effectrix
Compatibililty:
MacOSX 10.4.0 and higher, 1Ghz, 128 Mb Ram
Windows XP and higher, 1Ghz, 128 Mb Ram
Plugin Interfaces:
Mac PPC, Intel: VST / AU / RTAS / AAX
WIN XP, VISTA: VST / RTAS / AAX

review resources
/productDetail/reviews/productReviews.jsp
1
Loading....