Epiphone PR-4E Acoustic-Electric Guitar Player Pack
(Natural) Sku #518786000010000
Epiphone
518786
ABA
6 String Acoustic Guitars
https://www.esnapw.com/rses/ESnapServlet?MerchantNumberSent=63655
FREE SHIPPING on Almost Everything
MMGS7//518786000010000_MEDIA_SET
true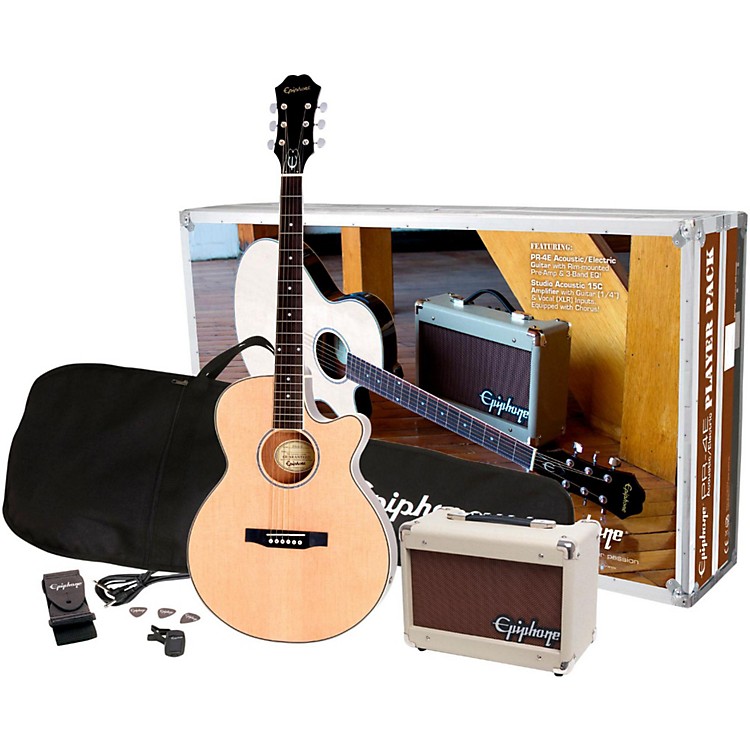 For the acoustic player who wants to plug in and rock out!
The PR-4E Acoustic-Electric Guitar Player Pack includes a PR-4E acoustic guitar, 15-watt acoustic amp with guitar and microphone inputs as well as built-in chorus, online lessons from eMedia, clip-on headstock tuner, strap, guitar cable, gig bag and more.

Epiphone's improved PR-4E Acoustic/Electric Player Pack features everything you need to start playing guitar right away. It includes an Epiphone PR-4E Acoustic-Electric guitar and an Epiphone Studio Acoustic-15C amp along with a handy clip-on headstock tuner, strap, cable, picks, gig bag, and free online guitar lessons from eMedia. Plus, the Studio Acoustic 15C comes with an XLR input for a microphone (not included). With a 1/4" input for your guitar and an XLR input for a mic, you're ready to play live and sing anywhere you go.

Epiphone has been at the forefront of making professional affordable instruments for over a century. And today, Epiphone still leads the way by combining old-world construction methods with cutting-edge designs. The PR-4E Acoustic-Electric guitar is a longtime fan favorite for its woody tone and great projection. And now, the Epiphone PR-4E Acoustic-Electric Player Pack offers both new and experienced players everything they need to play guitar in one package made with the peace of mind that comes with Epiphone's Limited Lifetime warranty.

Epiphone PR-4E Acoustic-Electric Guitar
New guitar players love the Epiphone PR-4E Acoustic-Electric guitar and it's been a best-seller for over a decade for its professional sound and quality construction—and all at a great price.

The PR-4E features a Select spruce top with a natural finish and a mahogany body. The "top" of any acoustic guitar is the source of its "voice" and acts as a kind of soundboard. Spruce is one of the preferred tonewoods when making acoustic guitars for its ability to hold up to hours of playing time in all kinds of venues and still project a rich tone. The PR-4E's Select spruce top is supported by vintage style X-bracing—just like vintage Epiphone Masterbilts—which not only supports the top, but also gives the PR-4E considerable volume and balance for its size. It's a perfect guitar for singer-songwriters too. Thanks to the quality construction and combination of spruce and mahogany, the PR-4E doesn't suffer from sounding "boomy" or "scooped" like other beginner's guitars. The Venetian cutaway allows easy reach to the upper frets and gives the PR-4E a distinctive profile that's both modern and classic.

The PR-4E's mahogany body features 5-layer white and black binding and the mahogany neck has a pro-standard Rosewood fingerboard, a 1.68" nut, and single layer white binding along the neck. There are premium die-cast 14:1 ratio machine heads (tuners) on the Epiphone trademark Sloped Dovewing headstock along with a classic '60s era Epiphone logo.
Plugging In! The PR-4E's piezo element pickup system is located under the saddle. The guitar's built-in electronics are mounted on the upper bout of the guitar and feature easy-to-use boost and cut controls for Treble, Middle, and Bass. There is also a Volume control along with a phase switch and a low battery light indicator. A 9-volt battery compartment is located next to the EQ controls allowing for quick changes during a show.

Epiphone Studio Acoustic-15C Amp
The Epiphone Studio Acoustic-15C is a perfect match to amplify the PR-4E's rich tone and the on-board EQ section allows a player to easily and quickly make fine adjustments for optimum sound. But it also includes an XLR mic input with its own volume control. You're ready to play anywhere with just your guitar, amp, and a microphone.

The Studio Acoustic-15C is a 15-watt amp with a specially designed 8" speaker in a closed-back cabinet. The amp includes two inputs—both a 1/4" instrument cable input (included) and an XLR (mic) cable input with individual volume controls for each channel. Just take your guitar, amp, and a mic to a club or any space and you're ready to perform. The amp also includes a ¼ headphone input.

The Epiphone Studio Acoustic 15C's handy 3-band EQ offers a wide range of flexibility along with a rocker switch and switchable chorus effect with chorus speed. Sound engineers frequently use a chorus effect to emphasize an acoustic guitar's natural tone when mixing it with other electric instruments through a sound system. The Epiphone Studio Acoustic-15C's multiple chorus options allow you to easily "dial in" your PR-4E's tone on any size stage. The Epiphone PR-4E Acoustic/Electric Player Pack also includes an Epiphone gig bag, clip-on headstock tuner, strap, picks, and a 1/4" guitar cable.

Guitar Lessons
The PR-4E Acoustic-Electric Player Pack also comes with comprehensive online lessons from eMedia so beginners can dive right in and start playing.

For over 140 years, Epiphone has been a leader in creating innovative guitar designs and crafting fine instruments that anyone can afford. So many great songs start out being played on an acoustic guitar. And now Epiphone has made it easy for you. Everything you need to begin playing guitar is right here. Become part of Epiphone's long history of teaching the world to play guitar with the new Epiphone PR-4E Acoustic-Electric Player Pack.

Features
Guitar - Epiphone PR-4E Acoustic-Electric
Top Material: Select spruce
Body Material: mahogany
Binding Body: 5-layer, W/B/W/B/W
Neck Binding: 1-layer, White
Neck Material: Mahogany
Bridge Pickup: Under Saddle Piezo Element
Controls: Volume, High EQ, Middle EQ, Low EQ, Phase, Battery Indicator
Output Jack: 1/4"
Hardware: Chrome
Bridge: Rosewood
Saddle: Compensated, PVC
Tuners: Premium Die-cast; 14:1 ratio
Fingerboard: Rosewood
Amplifier - Epiphone Studio Acoustic-15C
Watts: 15
Speaker: 8"
Cabinet: Closed Back
Channels: 2
Input (Channel-1): XLR (mic)
Input (Channel-2): 1/4" (instrument)
Controls: Channel-1 Volume, Channel-2 Volume. High EQ, Mid EQ, Low EQ, Chorus Effect (on/off), Chorus Speed, On/Off Rocker Switch
Output: 1/4" Headphone
Accessories
Gig bag: Yes
Tuner: Yes; Chromatic; Clip-on Headstock
Strap: Yes
Cable: Yes
Picks: Yes
Instruction: Yes; eMedia
An excellent acoustic-electric setup for the beginning or intermediate player. Order now.
review resources
/productDetail/reviews/productReviews.jsp
1
Loading....
write a review
EpiphonePR-4E Acoustic-Electric Guitar Player Pack
Learning Instrument
Play at home
Comments about Epiphone PR-4E Acoustic-Electric Guitar Player Pack:
It's not built for travel, or for a heavy-handed individual. Good little parlor guitar.
Comment on this review
Comments about Epiphone PR-4E Acoustic-Electric Guitar Player Pack:
I bought this as a second guitar to use exclusively with Nashville tuning. Once the strings were changed to an Addario Nashville tuning set, the bridge saddle was adjusted and the fret ends filed down a bit to remove some sharp edges it works great for its intended use. It even sounds great through the amp provided. The thinner body and laminated top actually compliments " high strung" tuning.
Comment on this review
Comments about Epiphone PR-4E Acoustic-Electric Guitar Player Pack:
I had one - gave it to a young couple with two little kids with a warning to keep it out of the three-year-old's hands.

My "8" rating is because no guitar is perfect in all situations. This is not a Hummingbird or D-28. It's not a bluegrass or heavy strummer. Period. If, because of the relatively low price for the package parents are considering it for an older pre-teen or younger teen, make certain it's the type of guitar he/she wants. It will not take a beating from a kid who really wanted a solidbody or bluegrass guitar.

So, what is it? It's a darned nice parlor guitar. I used it in a couple of kiddie concerts frankly because it is less expensive than my better instruments. That was a good move that pointed out a weakness in the guitar: The frets are relatively soft. A kid knocked mine over and the way it hit, a string-size crease was whammed into the second fret on the B string that will take a bit of repair over my head.

I put on light strings, Zebra A-E 9-42, for fingerpicking, mostly 20s-30s blues type stuff. It's loud enough for practice acoustically. Yes, the little amp is nice and adds depth, and likely would do fine for a house party since you also can plug in a microphone.

It sounds fine plugged into a PA that is set up appropriately for a given venue. Even amplified it won't sound like a Hummingbird, but will do fine for most styles if somebody doesn't feel a need to beat on it.

The active electronics seemed quite good; I had no feedback problems. The controls are easily used and can guard against feedback. The battery is easily installed next to the controls. The controls are better than I expected. But again, the electronics are not Gibson quality or physical strength and are in keeping with a light, nicely designed instrument for what it is. If a 10-year-old has been playing violin five years without problems, it's perfect; if he/she breaks toys, forget it.

The strap... Okay, most straps, including the one that comes in the package, have a little string that goes just upstream of the nut. Acoustic players have happily used them for ages. I got a Martin quick release that fits there. I also like that the endpin is not the jack. The jack is separately placed. The strength to that is a lack of endpin jack hassle; the weakness is that the jack probably won't handle much yanking on the cord to the amp. Oh - and buy a better cord. Consider adding an inexpensive mike stand and mike that you can get quite inexpensively.

I'd also spend the money to get a Taylor removable clear plastic pick guard. It's held on by static electricity and protects the top even from bare-finger strumming.

The neck is fine, at least on the one I had. Nicely dressed frets. Straight, although with the light strings, it was going to need a little adjustment. The tuners were fine, too. They can be tightened a bit if that's your preference. It held tune well with strings I used and my normal "stretch the new strings appropriately" ritual.

The gig bag... yeah, it's a tight fit. Yeah, it's not that much protection if you treat the guitar like a solidbody. For a gentle old guy like me, it's fine.

Bottom line: It's a really nice little parlor guitar that deserves to be treated like a really nice little parlor guitar. It won't sound like a dreadnaught, nor a semi-hollow and certainly not like a solidbody electric.

For what it is, it's worth at least twice the price. I don't know about cases, but it may be worth consideration if it's going to be hauled around a lot - but at that, one may consider instead a step up guitar like the PR5E or whatever for a heavier performance or travel schedule. I happen to like Epi necks. For an "at home" guitar with personal playing or "house party" picking with the little amp, it's superb for the price tag.

Nothing in the price range compares to the package. There are a lot better guitars from Epi, and a lot better amps to use like the much bigger and, to me, better Kustom 30-watt acoustic electric amp that also allows a mike to be plugged in and still is very inexpensive. But again, nothing compares to the package.
Comment on this review
Comments about Epiphone PR-4E Acoustic-Electric Guitar Player Pack:
The strap?
Well, it only hasone strap button and I don't recommend you getting it a second one since it will damage the high-gloss finish. Plus, most acoustic-electric guitars don't have 2 strap buttons.

Gig bag ..
The gig bag is really tight so, I suggest if you want to buy this pack buy an epiphone PR Series guitar case, as well.

sound ...
The sound is okay acoustic-wise. But when you plug it in the tiny amp that comes with it, IT SOUNDS AMAZING. Volume 3-4 is pretty much where it should be since it gets really loud.

amplifier ...
Like I said the amp get really loud compared to it's size. It has a chorus effect, as well. The wire/cord that comes with the pack is really short but I don't mind at all since I only use my PR4E for jamming and not for gigs/performance. By the way, the amplifier is light weight and I appreciate that because I love jamming with my PR4E.

tuner ...
the tuner is not built-in but it's fine because tuning an acoustic-electric with the tuner that comes with the pack is easier. You just plug in your amplifier cord to your guitar and tuner and you're good to go, even if it's loud wherever you are.


Etc.
- it comes with an Epiphone guitar collection poster
Comment on this review
Comments about Epiphone PR-4E Acoustic-Electric Guitar Player Pack:
The Epi CEO said on the Gibson forum that this is one of their most popular value packages, and I can see why. It's a nice little guitar and the little amp is enough to get someone started thinking about performances beyond their home practice place. The earphone jack is handy in several ways, and it takes a mike as well as guitar input.

Mine came with a little tuner instead of a pitch pipe, which fits modern beginners much better. The gig bag is a tight fit that's not easy the first time. The strap? Well, add a shoestring and attach it upstream of the nut; there's no strap button at the heel of the neck as on most electrics. Be gentle, it's not an SG for stage heavy-handed stage antics.

It's basically marketed as a beginner guitar, but I went past that 47 years ago. I picked up a "used" one at a big discount because the amp didn't work. I wanted a nice little AE for fingerpicking urban blues and I have plenty of amp power right now.

It is not a guitar to beat on regardless of age or skill level. It's kind of like a kitten that curls up comfortably on your lap if you treat it gently - and should be fun to play with for years. In ways it's a perfect modern, updated and electrified version of an inexpensive parlor guitar.

I'm a fingerpicker. The action on the one I got was incredibly easy. Yes, I dumped the factory strings asap and put on Zebra 9-42 AE strings. Everybody should consider new strings asap; factory strings to me, even on a $5,000 guitar, are there to keep the neck tension during shipping. Put on new that fit your style.The electric cord is low-end. Consider a better one at some point, but a longtime picker has several and a beginner will want a bigger amp within a year, too, as they enter "intermediate" ability and begin to perform away from home.

With extra-light strings on mine, there's a slight buzz fretting the first fret on the high "E" string, but it's no big deal for how I play. I have other guitars, mostly from the 1970s, that are far more expensive, even "classic," but this seems to encourage the fretting fingers to dance if you treat it gently. Yeah, that surprised me, too.

It's not a "high end" Epiphone, but the electric section is okay. You have the three-band eq and volume control and an easy external way to put in the pre-amp battery. The output jack is at the lower rear of the side as on most jazz guitars.

The sound acoustically with the light strings is a little "hollow" on the new instrument, something like parlor guitars of another era. It's not a Hummingbird or D-28 with heavy strings for bluegrass.

Electric and acoustic it's perfect for fingerpicking or light flatpicking 30s-50s urban blues. So is the sound. I think a Django style "jazz" would work quite well too, as well as just general picking.

That hits it. A pro can have fun with a cute little guitar, a beginner can have a fine action to begin with as long as he/she is gentle. Oh - parents, consider this: It may be perfect for that 12-14 year-old to start on if they have some guidance and don't push it for what it isn't.

It is what it is. Remember that and you have an exceptional value; forget it and you may be disappointed. I'm pleased as possible with the price-performance and appearance.
Comment on this review