Hohner 560 Special 20 Harmonica
Product #584354
Hohner
584354
TBH
Harmonicas
https://www.esnapw.com/rses/ESnapServlet?MerchantNumberSent=63655
FREE SHIPPING on Almost Everything
MMGS7/584354000818000_MEDIA_SET
true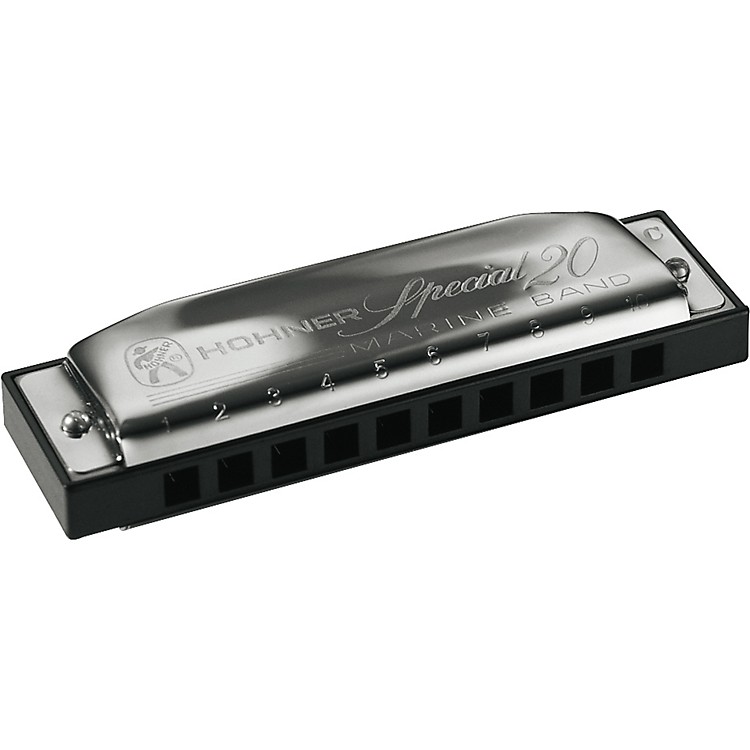 Unavailable
Item Note:
This product has been discontinued but may be available as a Open Box item.
Similar Items
584354000818000
See All Hohner Harmonicas
The go-to harp for professionals and the first choice for those learning to play.
The Special 20 is the go-to harp for harmonica players of any style, including blues, country, folk, or rock. The Special 20 delivers the coveted Marine Band sound and offers the benefits of its plastic comb: it doesn't absorb moisture so it won't swell, shrink, or crack; it lasts longer and is more airtight than wood combs that can become swollen, twisted, and warped; airtight construction provides increased responsiveness; plastic provides comfort and it's smoother on the lips, preventing chafing.

Another plus of the Hohner 560 Special 20 is that the harmonica's reed plates are recessed into the comb. This keeps the sharp edges of the brass reed plates (found on most harps) from harming your lips. The Special 20 is the harp-of-choice of harmonica virtuoso John Popper of the band Blues Traveler and was played by Bob Dylan on his 2007-2008 tour. Chances are your favorite player has several of these harmonicas in his case.

Choose your desired key!

About Hohner:
Hohner is a family company founded in 1857 in Trossingen, Germany by Matthias Hohner. Hand-made quality and close attention to detail has set Hohner apart from the beginning. A top leading brand in harmonicas, Hohner harps are distributed worldwide. Hohner harmonicas are played on the street by buskers, in intimate nightclubs, on festival stages, and even in Carnegie Hall. Despite a diverse harmonica line used in music from country to classical genres, the most famous Hohner harmonicas are their simple, 10-hole diatonics used frequently by blues, rock, country, and folk musicians.
Features
10-hole diatonic
Professional quality
Standard (Richter) tuning
Genuine brass plates
Plastic comb
Bolted-on covers
Reeds: 20
Reedplates: brass; 0.9 mm
Plastic comb
Length: 10 cm
Hohner harmonicas feature:
Improved reed profiles to increase reed life by over 200%
Precision die punches to ensure reed plates with unparalleled air tightness
Improved tuning accuracy (through investment in innovative new tools)
Extremely stable stainless steel covers that won't tarnish and are easy to clean
Dynamic range and highest volume of most any commercially made harmonica
Super-fast response at all volume levels
Easily adjustability for overblows
order the 560 Special 20 today and get an awesome response, superior bendability, and the sweetest tone.
review resources
/productDetail/reviews/productReviews.jsp
1
Loading....
Write a Review
Great sound (32)
Responsive (27)
Versatile (27)
Huge tone (16)
Sensitive (16)
Small venues (31)
Jazz clubs (24)
Accompaniment (18)
School bands (7)
Soundtracks (7)
Reviewer Profile:
Experienced (26), Professional musician (14)
Most Liked Positive Review
Detailed Review
I received a white sparkle Breakbeats as an unexpected gift from my wife. With some vacation time on my hands and nowhere to go, I ran this kit through the ritual of...Read complete review
I received a white sparkle Breakbeats as an unexpected gift from my wife. With some vacation time on my hands and nowhere to go, I ran this kit through the ritual of evaluation.

BUILD QUALITY

The kit comes in a state of partial assembly. I completely disassembled the kit to inspect all hardware and interiors. Shells (excluding wrap) measured .255" with calipers. The interiors are of a white wood rumored to be poplar, and it appears to be just that. Small knots (not holes) indicate that the wood is not deep heartwood, but it is too white in color to have been taken from the sapwood. In Ludwig tradition, date of manufacture is stamped inside each shell. The exterior sparkle wrap is nicely done, and completely glued to the shell. With the hardware removed I took the opportunity to wax the laminate with NuFinish car wax which really made the sparkle "pop" and provides UV protection (keeps the white from yellowing).

The drums were in-round but it was evident that they were not handled with great care in manufacture. There was indication of a "get 'em done, get 'em out" mentality in production. An example is the holes. Though drilled in the correct places, the drill was "punched through" leaving break-out and rough edges on interior wood and spiral shavings of laminate on the exterior. This is all covered by hardware, but on more expensive drums, more care is taken. Drum "badges" are carefully placed stickers. The edge of the bass drum badge was peeling due to lack of adhesive, and with no way to fix it, I removed it. The stickers look really cheezy. Really, how much can proper drum badges cost?

The chroming on the hardware is very thin, and showed what looks like mild chrome "acne." This appears to be due to imperfections in the substrate surface (which thicker chroming would hide) rather than pitting or corrosion. Bass drum legs and tom mount seem very sturdy, if roughly cast and thinly chromed. The hoops are of very thin gauge steel, thinner than 1.6 mm., and feel as though they would deform under tight tension or rim shots. They are polished bright but I'm not sure that they are chromed. Bass drum hoops are metal, tension claws are stamped steel.

Tuning lug screws all have thick nylon washers. All threads on screws and bolts throughout felt as though they were binding until light grease was applied. I think the un-lubed threads were actually galling (catching and tearing metal). It would be best to lube all threads on all parts before doing anything with this kit.

HEADS

Heads are Remo UT/UC made in China, and are poor. They are impossible to tune evenly and wrinkled no matter what I did. The Bass drum heads were passable. Both bass drum heads are thick and both have an interior dampening Mylar ring.

BASS DRUM

With the supplied heads the kick sounds surprisingly deep for a 16" but is quite quiet. The riser is a knock-off of the Gibraltar SC-BDPM, and is of simple design but works well for getting the beater to strike nearer the center of the head. Some people have complained about the pedal linkage hitting the rim. If you put the riser in the lowest position, most modern pedals will clear the rim. If you extend the riser fully, you will likely need to set the pedal back a little. Set low, the beater hits a little off-center (pedal set for center of 22" kick). I detected no difference in sound from behind or in front of the kit regardless of how the riser was set. However, the drum is beater sensitive. With a felt beater, there is an "ooom." A plastic beater drastically increases attack. If you want to change out the batter, the only company I know of making 16" kicks is Aquarian , which is fortunate because their heads are excellent.

TOM TOM

The tiny tom has memory locks for both the down-tube and the L-arm, but the receiving notch in the hardware is quite shallow. This is not Ludwig's regular stuff. I replaced both heads with Evans coated (G2 on top, G12 on bottom sounded best to my ears). The sound is "woody" and very pleasing. Owing to the low-density wood, the drum can be deeper than you would expect, but can be tuned up higher for jazz. Volume is attenuated, which is a good thing if playing in intimate venues. Being accustomed to suspension mounts, this drum lacked sustain with the supplied mount. Unmounted and held with two fingers sustain is very nice. If one were to obtain a suspension mount, one would also need to obtain a mounting bracket, as the hole-spacing of the brackets (same for tom mount and floor tom legs) is less than 2".

FLOOR TOM

The 13"x13" floor tom was outfitted with G12s top and bottom. The drum surprised me for how low it sounds. The rough legs terminate in cheezy hard and thin rubber feet, which diminish sustain but on my sample didn't choke the tone. Gibralter floating feet may wring the potential out of this drum.

SNARE DRUM

The snare drum is made of the same wood in the same thickness as the rest of the kit and is very light for a snare drum. To my amazement, snare beds are present. The strainer and butt are cheaply stamped and chromed, but are rather heavy-duty, and worked very smoothly after they were disassembled, cleaned, and properly lubed. Engagement is not positive, kind of sliding into place, but it stays put.

I pride myself on being able to get any snare drum to sound good with proper tuning. This one frustrated me. The drum sounded completely unfocused and "boingy." To try to fix it without putting money into it, I sanded the interior using 220, 400, and 1,000 grit paper. I applied a coat of clear satin wood wax to the wood, let it dry for a day, and buffed it out for an hour while watching a movie, to produce a glass-like sonically-reflective satin surface. The supplied reso head seemed too thick. I found a reso head from an Acrolite and the Acro's original wires, which were better than the ones that came with the Breakbeats. After installing the head, I affixed the wires with grosgrain ribbon, ditching the thick plastic straps that came with it. I found a G1 in my old stock, and came across a 2.3 mm 14" top S-hoop of 8-lug configuration I had forgotten about. The effect of these was cumulative but of all the things I did, I think the heavier hoop was the source of the single greatest improvement in sound.

The results were not amazing, but the improvements did make for a drum that is at least usable. Due to the soft, low-density wood it is quiet and dry, lacking "crack," but it is surprisingly sensitive and articulate with the improvements, and has a low, "EQ'd sound" that works well in small venues where a better snare might be overwhelming. After the enhancements it sounds like a real snare drum, but not one you'd buy if it didn't come with the kit.

OVERALL

As this is a shell pack, I added some hardware I had on hand: a lightweight snare basket, a lightweight hi had stand, and a lightweight cymbal stand to mount a single crash-ride. Much more hardware than that would defeat the purpose of this light little portable kit.

The whole shell pack easily fits in the back seat of my '02 Mazda sedan. When I took it to its first Jazz Jam, the other musicians poked fun at its diminutive size, until I started playing it. They all commented that they could not believe that such a tiny kit sounded so good. The best part, though, was carrying it in and out of the venue. The drums fit in a set of SKB soft cases (the bass drum, even with all the extra hardware on it, fits in a 16x16 SBK floor tom case; btw, the supplied bags are useless). The snare drum went in an Acrolite backpack case. With snare on my back, I was able to transport the two lightweight toms in my left hand, and the bass drum slung over my right shoulder up the rickety and unrailed switch-back stairs to the Jazz Coop. One more trip with a backpack cymbal bag and carrying a hardware bag is all the gear-schlepping I had to do. Never before have I been able to get all my gear in by myself in two trips.

BOTTOM LINE

The kit looks great, is lightweight and sounds surprisingly good. Necessary upgrades include better batter and reso heads on snare and toms, and a heavier top hoop for the snare drum. Floating floor tom feet, better snare wires and 1.6 mm hoops all around, and perhaps an isolation mount for the tom would be an improvement, but I'm not sure it's worth putting that much money into this kit.

At less cost than a quality snare drum, the Breakbeats are what they are. Not high-end drums, they nevertheless look and sound better than I expected. They play well, amaze the audience and other musicians, and are quick to sto-and-go. They're cool in a kind of a riding-a-tiny-bicycle sort of way.
Most Liked Negative Review
Not bad for the price
This kit is cool, but the quality is sketchy everywhere you look. But for the price, it's expected. Replace the heads. It will tune up surprisingly well. The 16" bass...Read complete review
This kit is cool, but the quality is sketchy everywhere you look. But for the price, it's expected. Replace the heads. It will tune up surprisingly well. The 16" bass drum is fun. The riser (as with all bass drum risers I have ever tried) forces you to put the pedal a bit too far away from the drum so the chain doesn't hit the rim of the drum as you play- the feel is a little weird. The included bags are worthless. All in all, I wonder if the Sonor Safari has better quality for about the same money. Oh well.... would I buy this again- no. But it does what I wanted - small footprint- finish has a cool 70's look- can carry around easy.
Comments about Breakbeats by Questlove 4-Piece Shell Pack:
I was looking for a punchy, lighter, smaller, everyday gig worthy kit that could still deliver a big drum sound. I was pleasantly surprised how well this set tuned up. At this point I don't see any need to add any type of muffling to any of the drums to get the sound I'm looking for. That's a bid deal because depending on the gig I mic, trigger, and go straight up acoustic. Tuned as is, it should work great for any gig.

First gig is this weekend on a large out door stage and I can't wait to give it a go.

Quality: The drums look and sound great. However, with a closer look, it is very clear this kit does not have the quality hardware and finish you would expect on a more expensive drum set. As a drummer that has been playing gigs since the 70's, it is great to show your students you don't need to spend a ton of money on a drum set to get that great pro sound.
Comment on this review
Comments about Ludwig Breakbeats by Questlove 4-Piece Shell Pack:
I've owned a few compact kits and the Breakbeats are one of the better sounding. Surprisingly toneful for their small size. I found not real problems with the stock heads. The drums tuned easily though I had a bit more difficulty with the floor but overall no issues. The snare sounds better than I expected. I love the blue sparkle color.
Comment on this review
Great Sound
Responsive
Sensitive
Versatile
Comments about Ludwig Breakbeats by Questlove 4-Piece Shell Pack:
I really dig these littles drums right out of the box with very little tuning they sounded great, real punchy for a small kit. More than I expected!! Very small, light weight easy for small venues without sacrificing sound.
Comment on this review
Comments about Ludwig Breakbeats by Questlove 4-Piece Shell Pack:
I do like the sizes , with a few upgrades its dialed in now and perfect for my townhouse!
Comment on this review
Comments about Ludwig Breakbeats by Questlove 4-Piece Shell Pack:
This kit is absolutely perfect for playing in small places and easy setup/tear down. The small dimensions on the drums give a killer punch to the drums, and make them easy to fit into even the smallest rooms. The bags that come with the drums are awesome, although they don't muffle the drums quite as much as the ads make it sound, but they do decent.
Comment on this review
Great Sound
Responsive
Versatile
Comments about Ludwig Breakbeats by Questlove 4-Piece Shell Pack:
Used mostly on the left hand side of a Ludwig Vistalite Zep kit, this kit does all I want it to do and more. Unmistakable Ludwig sound allows the two kits to blend easily. When used as a stand alone kit, this kit kicks it, and that's with the factory heads! The blue azure wrap is well applied. The extra clamp on the tom mount allowed me to attach a 20" China. I'm VERY impressed with this kit, just a great, great sound all the way around!
The metal bass drum hoops have a channel running thru the center of it (this affects riser attachment, cowbell attachment) but it's livable. My Tama Speed Cobra pedal attaches easily and securely without rubbing on the riser, and if it did that's an easy fix. The finish of the lugs aren't like they are off a high end Ludwig, though the functioning is. Nice nylon isolation washers do the job well too.
The 45' bearing edge top smooth without chips or splinters.
The snare throw off is impressive and works VERY well for me with no "clunkiness". The Tom mount is top notch!
Overall a GREAT buy, Ludwig & Questlove delivered!
Comment on this review
Huge Tone
Responsive
Versatile
Accompaniment
Jazz Clubs
School Bands
Small Venues
Studios
Comments about Ludwig Breakbeats by Questlove 4-Piece Shell Pack:
I use this product mainly for jazz and bebop studies. It is an incredibly dynamic kit, that truly delivers the legendary Ludwig tone in a package designed to fit the urban drummers needs.
Comment on this review
Great Sound
Huge Tone
Responsive
Sensitive
Versatile
Accompaniment
Anything you can think of
Gigging
Jazz Clubs
Large Venues with PA support
Small Venues
Comments about Ludwig Breakbeats by Questlove 4-Piece Shell Pack:
I got this on sale a while back so I pretty much got it for a steal. I've actually been a bassist for the longest time 17ish years but took up drums at our local church due to not having a drummer. Been doing that for a few years now and although I still consider myself a bassist, I almost consider myself a drummer, lol. All I can say is I love this kit! Small with a big sound. I was looking at the catalina clubs but mostly just needed something to practice at home with that didn't take up a lot of space so I didn't want to pay the price of the catalina. This was the answer and it has delivered. I haven't gigged much with it but it does deliver when needed. Attack is great sustain and sustain is perfect if you ask me. The biggest complaint is the snare. Just doesn't have that "quality" feel but honestly, it still sounds good with new heads and some puresound blaster snare wires. I also replace all the heads on the set as well and added a kickport to the bass drum. The difference with the kickport is negligible but it did make it a little tighter and less boomy. I also like that I can put a gibraltor boom stand on the opposite side of the tome holder. Makes it even more compact. If you read my rambling this far down, then you have to go buy it because that means you probably really want it! Don't hesitate, you won't regret it!
Comment on this review
Great Sound
Huge Tone
Responsive
Sensitive
Versatile
Accompaniment
Jazz Clubs
Small Venues
Small venues & stages
Soundtracks
Comments about Ludwig Breakbeats by Questlove 4-Piece Shell Pack:
Wow, I read all of the previous positive comments here & I agree. This is the best small kit Ive heard and owned. I had a Taye Go-kit & these are better. I used a 2" floor tom Kickport and that made the bass drum sweeter than it is. I actually like the stock heads. Ludwig has improved on the rims & hardware since these came out as mine were bright and flawless, bearing edges fine.. I cant find a flaw or complaint. I needed a small kit for the Church gig I do, I could see me using these in a small club miked up. Buy a kit you wll love 'em.
Comment on this review
Dynamic
Great Sound
Versatile
Accompaniment
Jazz Clubs
Small Rooms
Small Venues
Comments about Ludwig Breakbeats by Questlove 4-Piece Shell Pack:
This set is so nice because it's small and versatile. While I don't move my set very often, if needed I can easily breakdown, move, and set up this set. With the bass drum at a whopping 14" diameter, the set takes up much less space than a normal-sized set. My previous set had a 20" bass drum and could easily get loud quickly. Even with a small footprint, the Breakbeats can do the same and surprisingly pack a punch. Make them sound flat, or super tonal. This is where the versatility comes in.

I was looking for a smaller, less rambunctious set to play in one of my small rooms. Drum volume is what I was worried about most. Having had a standard sized Sonor set for over 10 years, I knew how loud playing could get without even trying. The breakbeats set accomplishes my need for a quieter sound with a smaller footprint. Now one would ask if the sound is smaller, then wouldn't that disrupt from the tone and power of a set. I say nay to this. If you know how to tune a set and play with dynamics, noise is not too big of an issue. Mind you, I also play with Hot Rods when absolutely necessary. However, using sticks, you can really get a nice big sound out of the drums if you're looking for that. I don't see this set being too quiet for playing with a medium to slightly higher volume group. Great for jazz musicians and groups who focus more on dynamic and less on straight volume.

Bottom line, if you are looking for a set to use in a small space or one with flexible sound restrictions, I suggest this nice gem. It does the job without breaking the bank and if you're one of those "I only play the best" people, just give it a try.
Comment on this review